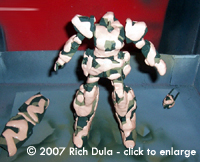 ^ In action

Image: Step 1: Primer

Image: Step 2: Base color, khaki in this case

Image: Step 3: First cammie color

Image: Step 4: Second cammie color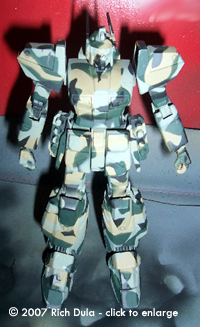 ^ Step 5: Last cammie color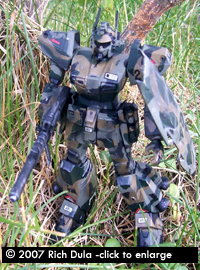 ^ Completed model

Image: Right/front view

Image: Front/high

Image: Left/rear

Image: Left/front


Geting Started
Step 1 - Primer: Aside from knowing that I wanted to do some type of multiple-color camo scheme, I really didn't plan how I was going to paint the RGM-109. My first step after finishing kit construction was to prime the kit. My preferred primer is light gray sandable auto primer.
Step 2 - Khaki: I decided to use Tamiya acrylic Khaki (XF-49) as my base coat. I mixed up a batch of the paint, thinning it with 70% isopropyl alcohol, and switched the needle in my Paasche H airbrush from a No. 1 to a No. 5 for wide-area coverage. I took my time and made sure all surfaces were covered. I ended up splitting the kit up into its major components (legs, torso, waist section, arms, and head) to make sure I'd gotten all of the areas. I also painted the backsides of the armored waist plates, even though they probably wouldn't be seen.
Ready To Paint
Now the fun began. I opened my Super Putty, and began to pull small quantities out and apply them in different patterns on the kit. The putty went on smoothly, around corners, over raised areas, and didn't have a single problem adhering to the surface of the kit. I used the end of a paintbrush to burnish the putty down in a couple places, but aside from that it went on so easily that I found myself wondering if I was doing something wrong.
I rolled the putty into tubes, flattening them after I'd applied them to the kit, or I flattened putty before applying it and just contoured it to the surface as I went. Just let your imagination wander and let the putty go where it wants to, at least for the first layer or two. The putty can be pulled apart with a "snap" motion, or if you want more control, you can cut it with a small pair of scissors.
One thing to be careful of is not letting putty-covered limbs get too close to the body of the kit, or having the legs touch. Then you have to pull the parts slowly apart and use scissors to cut the strands of putty that may have joined together. Putty is nice, because it bonds to itself and stays put. But putty is also annoying at times, because it bonds to itself and stays put.
I actually used less putty during the first step than I did in later steps. The goal as you progress is to cover larger areas that you painted previously, and leave smaller areas for painting in the next step. After I was happy with the way it looked, I picked out the next color to be applied. I knew I wanted to work from larger areas down to smaller areas, so I chose a dark color for the second layer of the paint scheme.
Step 3 - J.N. Green: Still using the No. 5 needle, I sprayed Tamiya acrylic J.N. Green (XF-11) on both the kit and the shield. I made sure to spray from all angles, working in coats as I went. Don't try to saturate the areas. Use multiple thin coats to build up the color. I decided to spray the head separately to make sure that I was able to paint all sides, and also to make sure that I was able to paint the neck/shoulder area.
After the J. N. Green was applied, I cleaned my airbrush completely, because the next color I was going to apply was enamel rather than acrylic. While I was cleaning, the paint was drying, and the masking could be taken off just after I'd finished my cleaning. As said before, one of the nice things about Silly Putty is that it bonds to itself, so all you have to do to remove it from the kit is to pick an end of it up, and roll it back on itself. If it sticks in a small area, just roll a small ball of the putty around the stuck area, and it will eventually come up.