By Rob Caswell
In early January, Chris Chulamanis, owner and operator of EVA Models, died after a severe heart attack. I'm still trying to come to grips with that as Chris was such a vital individual. His voice and enthusiasm better fit an idealistic sixteen year old than a man of 58 years who served in Vietnam as an Army salvage diver.
Many of you know Chris through his work. With EVA Models, Chris offered an affordable line of astronaut figures, both historical and fictional. With the latter he often named the figures after friends and fellow hobbyists. I was honored to have my name used as part of a two-figure "First Men on Mars" set, along with my friend Jay Adan. The crowning jewel of Chris' astronaut line has to be his 1/32nd scale LRV (Lunar Rover). He was the first to provide an exhaustively researched, accurately-detailed, and quality-produced kit of this subject. It's a gem.
In addition to his astronaut line, Chris had a major jones for the Colonial Marines from Aliens. He offered a wide line of 1/6th gear, weapons, and accessories to outfit "GI Joe" sized figures.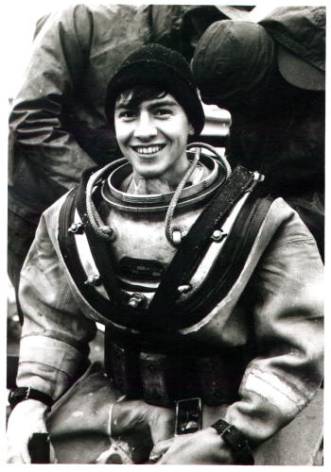 ^ Chris as an Army salvage diver in 1969