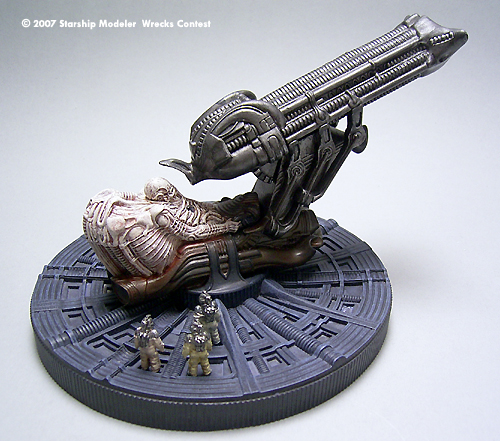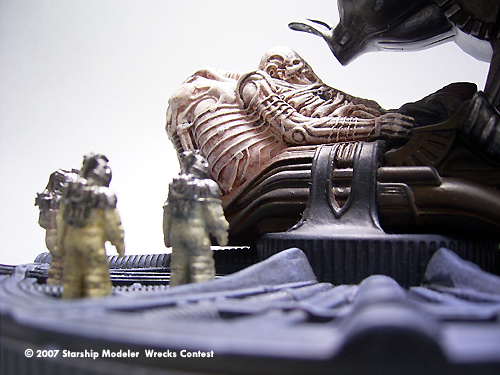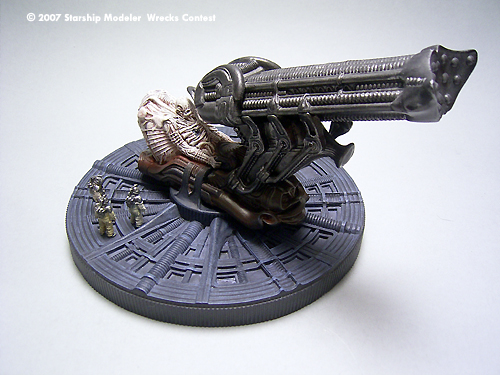 Scale: Not stated


The most remarkable scene for me in "Alien" is the discovery of the huge dead lifeform in the crashed derelict ship. A derelict itself it is the source of so many, and as yet still unanswered, questions: What is the device the skeleton is sitting in? Where did it come from? Was it alone? Part of the crew, or part of the ship - because you can`t really decide where the creature starts and the seat ends. What is the reason for the hole in its chest? Ah, well, the answer to this is given in the movie...

The model shown here is the vinyl Halcyon "Space Jockey" kit, build straight out of box. It shows the discovery scene with the three crewmembers of the NOSTROMO in front of their unexpected find. Why isn`t it in the diorama-category? Well, everything you see is part of the kit, so it is a box stock one, isn`t it?

I glued everything together using superglue, the kit was then painted with acryl- and oil colors: The base is dark grey, washed with black oil color and drybrushed with "shadow grey" from Games Workshop, in fact a dark grey-blue color. The spacesuits are painted in tan and several metallic tones, then drybrushed with pastel chalk for the slightly different colors of the suits (blue, red and yellow). The "Jockey" itself was painted in "bleached bone" from Games Workshop, washed with a brown oil color and drybrushed with white. The device was painted in black, also the lower half of the seat. The last-mentioned got a wash with middle-brown oil color, the device itself was drybrushed in "boltgun metal", "chainmail" and finally "mithril silver", all from Games Workshop.

And so I got my model of that amazing movie scene. Oh, and remember: In space no one can hear you scream...

Image: From behind

Image: Opposite side

Image: He was big....




---
Thanks to our sponsors:
Anthony Murray
Triliance
---