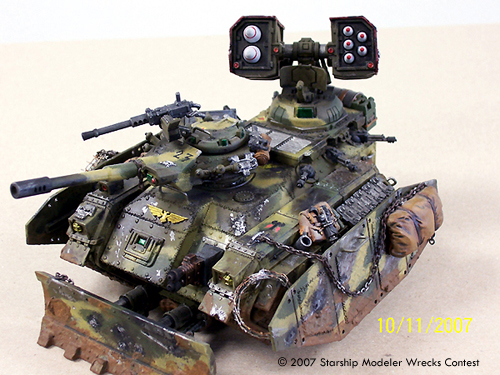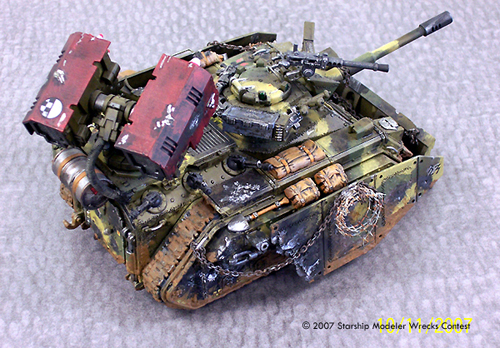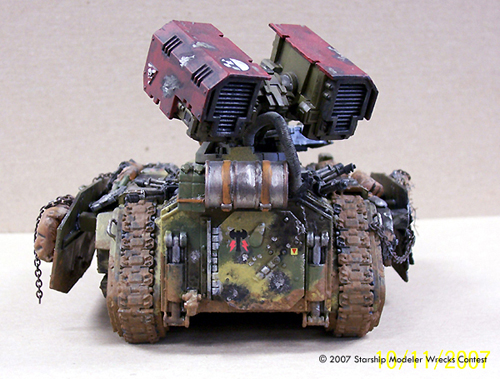 by Cal Dowling

Scale: 28mm


The model started out as a Chimera Tank from Games Workshop Warhammer 40k. But I wanted to do a little something different, so I added the Whirlwind Tanks Missile System also from Warhammer 40k to make the Scorpions "Tail". I also added a lot of detail to the kit such as weld lines on the armor plates, gear - packs, gas cans, chains, and barbed wire, also along both sides I added extra armor panels to give added protection to the tracks. As you can see on the right side toward the rear a devastating hit took out the last third of this extra armor.

I also added some minor battle damage, scrapes, dents, and weathered and mudded it up to give the tank a very war weary, repairs made in the field look.

The build was mostly straight from the box, putting together the main body of the tank, turret, missile launcher, and side armor. The most time consuming part was making the weld lines (hot knife and taking your time not to poke all the way through the plastic). Once that was done I added all the little bits and battle damage here and there. The armor panels on either side were made from sheet plastic and "reinforced" with diamond plate plastic sheet that is "welded" on.

Painting was straightforward. Once cleaned, I primed the model then sprayed a mid. tone green color as a base color then went on to the painting of the other colors, lighter and darker shades of green and a sandy yellow for the camo. Followed by washes of black, brown ink to dirty it up. Then painted the missile launcher a dark red so it would stand out a bit. And painted the details, bits, gear, and battle damage and chipped paint. To make the mud I added some ground pastel powder (brown, gray, and black) to some brown paint to make it thicker like mud. Other than the primer and base coat color all the rest of the painting was done by hand and brush, I then fixed any thing I missed and added a few decals like numbers and markings as a final touch and finished with a flat clear coat.