by Steve Radler

Scale: Not stated


Since the show first aired back in the 70's, I was hooked. When the re-imagined show aired, I was so happy to see the original rag-tag fleet make an appearance. I have always wanted to build my own ships of that fleet. This is my first completed one. The idea came from a German submarine model that was ridiculously cheap. From there I just let my imagination run. I did not use any kind of plan, just put on the model what I thought would look best, hoping it would all work out. As far was what parts...that is a good guess. It is a German submarine, a German ME109, some Babylon 5 Starfury parts, Star Wars models (Anakin's Pod Racer for sure), various Tamiya kits that were left over from other projects.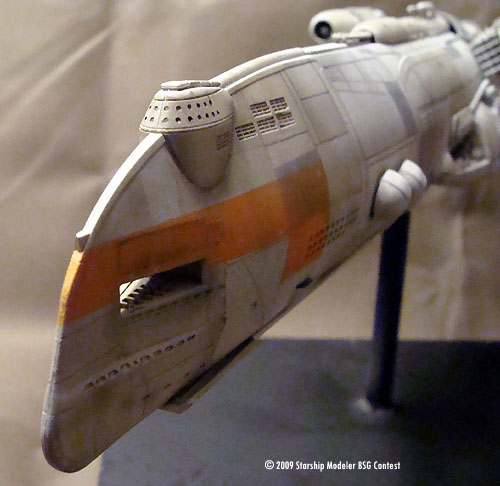 Placing all the bits was actually the hardest part. Not wanting to "waste" a good part in an area made it very time consuming. Placing the engines was a very long process. I could not figure out where they would look/work the best. In the end they rose to the occasion. Once everything was in its place and I was satisfied, I stopped and primed the model. I emphasize stop, because putting the little parts on could have kept going. I did not want to overdo it. I wanted this ship look like it belonged in the ragtag fleet.
I initially painted the whole ship in Floquil Concrete. It was too warm for me, so I began to mix a little Reefer White into the Concrete and wound up with a base coat I was happy with. I then began to add grays and browns into the mix and painted areas of the ship. I did not want too much of a contrast, but I wanted various shades in the hull. The orange striping was done a bit on the light side as I wanted the panels and color variations to show through. The weathering was all done with washes and pastels. Teh panel lines were drawn in with pencil. The initial idea behind the paint job was that this ship used to be a passenger/luxury liner. It is an older model and has been replaced many times. It now serves as a freighter, moving goods and people through the less popular places of the colonies. That was until the Cylon attack. We all know what happened after that!
In the end I was very happy with the result. I may go back one day and add lettering, numbering or some kind of insignia. I just have not been happy with any of my ideas in that area.
Image: Underneath
Image: Port bow
Image: Top/rear view
Image: Starboard midship
Image: Right/rear
Image: Under the main engine
Image: More detail
Image: Other side