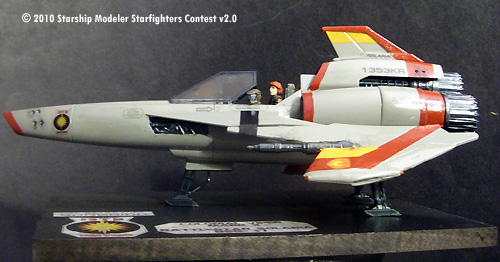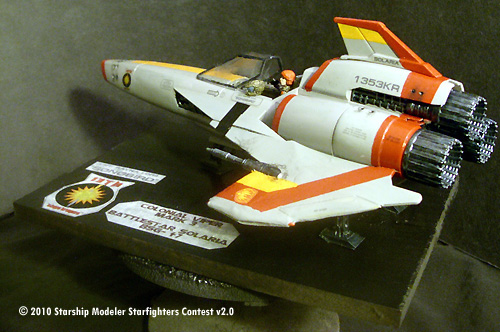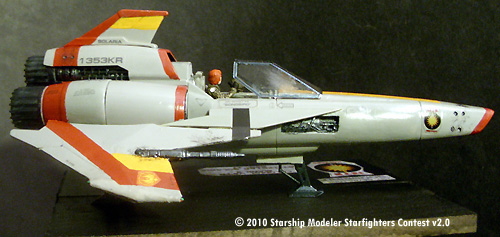 Scale: 1/32

Viper 1353KR, currently assigned BSG-47 Solaria
Pilot: Captain Rayna Lorii, callsign "Songbird"
Near the end of the Cylon War, a few issues were found with the performance of the Mark II Viper. To address these, the engineers of the Fleet looked to a concept upgrade they had planned for the older MK I Viper, codename "Scarlet".
While still using the basic airframe of the Mark II, the Mark III features forward swept wings for better maneuverability in atmosphere, relocated weapons, and coverings over some of the formerly open panels found on the Mark II. By relocating the wing cannon to the joint, the ammunition feed mechanism could be simplified. All in all, the performance was improved, but not greatly enough to warrant a full production run. Only a few ships were sent to the fleet's squadrons while work began on the development of the Marv IV.
My Mark III Viper started life as a Moebius 1/32 Mark II Viper kit. Using a schematic I found on the web, I planned out my changes and then set to work. The access panels were covered/filled with Aves Apoxie Scuplt. The wings were cut apart with a razor saw and then rebuilt with sheet styrene to face them forward. Structure was added to the wings with Aves. The guns were modified to now be mounted in the body of the wing, and the section where they used to sit was filled with styrene to create an "airfoil" effect.
The ship was given a base coat of primer grey. The metallic parts are a custom mix of dark metallic blue. Striping was masked off and painted by hand. Custom markings were drawn up in Paint Shop Pro 7 and printed onto clear decal paper.
The pilot figure was modified from the stock kit figure by first removing its head to make the helmet a separate piece. Then a head from the MMI TOS pilot set was glued into place on her neck Her flight suit was painted in olive drab, then given a black wash, and then drybrushed in gold.
The base for the model was made from basswood, painted black, and then marked with decals printed onto white decal paper
Image: Pilot
Image: Top view
Image: Front
Image: Left/front
---