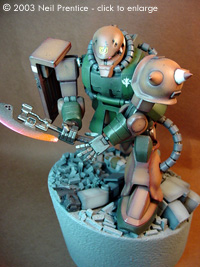 ^ Bad guy wearing various Zeon markings

Image: Larger markings adorn the shield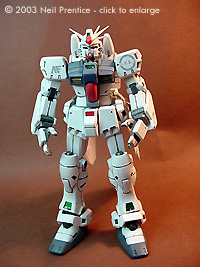 ^ Good guy, in subdued markings

Image: Warning stripes

Image: Closer look at the subdued shoulder markings
Animation Scale Models 4U has developed a line of markings in 1/100 and 1/144 scale, some for particular kits and some for general use. Each sheet contains a wealth of insignia, wwarning stripes, logos and other markings with which to liven your Zeon, Federation, Titans, AEUG and other Gundams. The neat thing is that most of these markings are sufficiently "bizarre" enough you can use them on a variety of sci-fi projects and no one but a Gundam afficianado will know the difference!
The decals are printed with an ALPS, which allows for white images and backgrounds. Images are consistently sharp and perfectly registered, with no gaps or bleeding between colors. Unlike many other ALPS decals available, there is no dithering (grainyness) evident in any of the images - they are perfectly solid. Like other ALPS decals, the entire sheet is covered with a clear film, which means you'll have to trim close to the images to minimize any excess on your model.
Using The Decals
The decals are commendably thin, but no thin as to be fragile and difficult to handle. I was able to slide them of the backing and maneuver around on the model with no tears or wrinkling. The covering seems to be a liquid decal film, instead of Dullcote as some other decal shops use. Any stray clear film disappeared when I applied Microscale's MicroSol solvent (a dullcote carrier tends to silver when I use it on those other decals), and there was no visible 'ridge' around any of the markings after they dried. I tried both MicroSol and Solvaset, a much stronger setting aid, with no damage to the decals.
I was afraid the markings would be so thin that background colors would show through - especially with the white images. That does not seem to be the case - even over the transition between dark and light colors (a pale yellow and bright red, in my case). I had a couple small air bubbles trapped under one decal. When it had dried, I pricked a small hole over the bubble with the tip of my hobby knife, flattened the area with a q-tip (cotton bud) dampened in Microsol -- and voila: no bubble. Sometimes I can';t get mainstream silk-screened decals to behave that nicely.
Conclusions
These decals are definitely an enhancement to what normally comes with Gundam kits, enabling you to make something that looks more like a moidel and less like a toy. In many respects they are the best ALPS-printed decals I've used, and I have already ordered a variety of other markings (which will end up on other sci-fi models as I'm not much into Gundam at the moment).
Highly recommended.