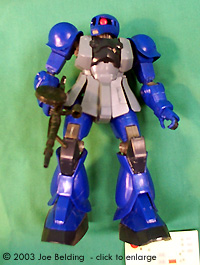 ^ The kit builds up easily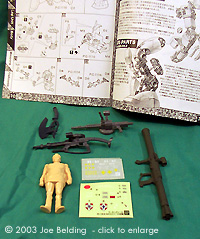 ^ Accessories include Ramba Ral figure, Heat Hawk axe, bazooka, Zaku machine gun and Zaku rifle

Image: Sub-assemblies

Image: Another look at the whole package
Bandaiís Master Grade (MG) series kits are without question some of the finest models available. They are equal to, and in many ways superior to anything Hasagawa or Tamiya offer. Even if you are not a fan of the Gundam series, you should really try one of Bandaiís MG kits to see for yourself the amazing level of engineering and quality that goes into one of these models. They are snap together and sometimes use a small screw or two, but I always recommend gluing them, especially if you plan to pose them often.
This kit represents the Zeon General Ramba Ralís personal Mobile Suit (MS). It is an early Zaku lacking the familiar hoses on its legs, hips and head. It also lacks the left shoulder shield and instead has 2 ball shields on its arms. It comes armed with a 2 Machine guns (MS-05 machine gun and 120mm Zaku II machine gun), 280mm Zaku bazooka, and custom heat axe. A 1/20 figure of Ramba Ral is also included.
Bandai's MG kits are state of the art. Not only are the parts molded clean and crisp, they are molded in color or clear on the same trees! When assembling they generally require minimum sanding and minor clean up of molding lines. There is a set of P-caps (Polycaps) for the moving parts, and a tree of ABS for certain area that require a little strength with flexibility. These kits really earn a 10 rating.
Iíve never seen pictures of Rambaís Zaku before this kit, but it is accurate to Zaku-I line art. (Though modified for Ramaba) Iíd give it a 10 for accuracy.
Instructions are a superb mini-book listing all the trees, clear assembly steps, history and technical information, plus black and white line art and high quality color pictures of it ďin actionĒ in various dioramas. ALL models should come with instructions like these. A flawless 10 for the instructions. The only drawback is the text is 97% Japanese, which I canít read.
Assembly and Finish
There is a false belief in certain circles that you need to build a few High Grade kits to gain experience before building a Master Grade kit, and a few Master Grade kits before building a Perfect Grade kit.