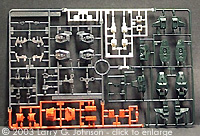 ^ Parts are molded in color

Image: The white bits

Image: Gun parts

Image: Polycaps and stickers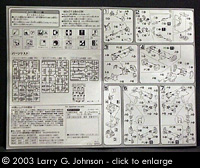 ^ Assembly guide

Image: Paint guide
Though a fan of the series, I had just recently told members of my modeling club at dinner after the meeting that I wasnít crazy about Gundam. Zaku yes, but Gundam didnít thrill me. So the next day I went out and bought the Bandai HG Buster Gundam kit. Go figure.
The Buster Gundam is a neat little design which attracted me due to the weapon arrangement. The beast has missile launchers on the shoulders with flip up doors and the guns are a neat little item as well. They rest aside a backpack when not in use and in combat, they swing to the Gundamís side on armatures. The two guns even combine to make a two handed BFG (Big-you get it-Gun).
What You Get
In a standard, thin tray/lid-style box, you get three trees of styrene parts, somewhat flexible, not brittle; one tree of vinyl polycaps; some stickers, and fanfold instruction sheet. The parts are perfect, clean with no flash or sinkholes and all ejector pin marks inside where they will not be seen. The parts are all molded in the proper color (the A tree is in that Japanese multicolor style which always makes this simple boy go oooooh and ahhhhhhh) so if you really donít want to paint, you still have a properly colored finished model. Detail is very nice for the scale and panel lines are engraved. The kit looks like it assembles easily and smoothly and the polycaps will make the model pretty poseable for dioramas (or if you just like to play with your Gundams). No decals come with the kit, only thick stickers and the instructions are not too clear on where they go. If applied properly the ones for the eyes (placement obvious) will look fine in the recess on the kitís face but the others will look bad due to the thickness. Fortunately they are not complex markings and can be painted on fairly easily.