Click on any image to see a larger version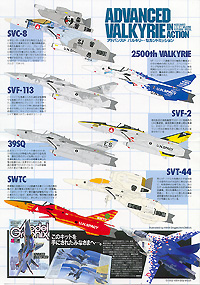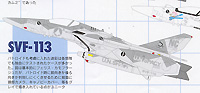 ^ Closer look at a VF-1J scheme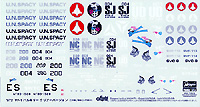 ^ Note: I tinted this image bluer than it actually is so the white markings would be visible.

Image: Sample sprue
They've done it again, this time for the 1/72 scale series of VF-1 Valkyries they released this year. Each of the three VF-1 fighters now has a corresponding "limited issue" kit molded in a translucent plastic (green, blue or red).

The kit iteslef is exactly the same as reviewed previously here. What's different (besides the gimicky translucent plastic) is the decal options. The Japanese hobby magazine Model Graphix ran a special spread in their April 2001 issue on "Advanced Valkyrie in Action". It included color profiles of several Valkyries and their variants in paint schemes not seen in the TV series or movies. Hasegawa has included markings for these in the limited issue boxing.

The options include:
VF-1S Strike Valkyrie of SVC-8 in grey and blue lozenge-style camoflauge
VE-1 Valkyrie (to be released in December 2001) with white markings on off white paint scheme
Two VF-1A Valkyries, one in a red and yellow striped test center scheme, the other in a grey-on-grey low-vis scheme
Two VF-1J Valkyries, one in grey-on-grey low-vis and one in markings reminiscent of US Navy F-14s during the mid-1980's
VF-1S Valkyrie in a garish paint scheme to commemorate the "2500th Valkyrie" produced, complete with subcontractor logos on the tail
Also included is the standard kit markings, so one gets all the necessary stencils and data placards.
The markings are unique and definitely a cool alternative to the regular kit. The only downside is that the one page fold-out shows only one side profile for each fighter. If you don't have access to the April 2001 Model Graphix, you'll have to wing it as far as filling in the rest of the paint scheme. Actually, that's somewhat of a blessing - because without that same magazine no one can prove your interpretation is wrong!
Conclusion
Unless you want to do a specific fighter seen in the Macross series, the clear red/green/blue versions of the Valkyrie are well worth the extra 400 JPY (just over $3.00 USD as I write this). Highly recommended!
Many thanks to my wallet for providing the review sample. Manufacturers and retailers, interested in getting your wares reviewed and publicized on a site averaging 2000+ readers a day? Contact us!