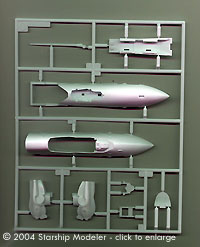 ^ The new sprue (clear not shown)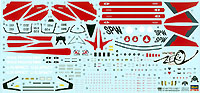 ^ Markings are for one test center aircraft
Following their time-tested tradition, Hasegawa have made minor changes to an existing kit and brought out another variant, in this case the two-seat VF-0S Variable Fighter seen briefly in Macross Zero. They will soon (as I write this) follow up with a VF-0A. The differences between these three kits are truly minor - the VF-0A and VF-0B have a different head turret (one cannon) than the VF-0S; the VF-0S and VF-0A are essentially the same airframe otherwise, at least externally. Thus, with the addition of one or two sprue trees, Hasegawa can maximize the return from their investment in molds.
What You Get
The difference between this kit and the previous VF-0S amounts to two sprues, plus decals and instructions, of course. The new parts include a different "U" tree, providing the two-seat forward fuselage, and a new "N" tree with the different canopy. Other than that, everything I said about the VF-0S looks to remain true.
Decals are provided for one aircraft, a flight test model. As with the previous release, I expect them to be a bit on the thick side but otherwise emminently useable. As these aircraft/mecha were essentially limited-run production models and testbeds for advanced jet engines and Overtechnology, and only deployed for actual operational use when delivery of VF-1 Valkyrie variable fighter's thermonuclear reaction engines were delayed, I doubt any other boxings with different decals will be released.
Conclusions
You have to hand it to Hasegawa - they know how to get the maximum amount of value out of a set of molds. That said, I like the test center markings on this bird, which is why I bought it. As with the VF-0S, I'd suggest that the number of parts, and especially the number of SMALL parts, make this a subject for someone with a few plastic kits under their belt. Patience and carefull assembly will reward the modeler with a contest-winner right out of the box, and there's plenty of room for the more experienced builder to super-detail.
Highly recommended.
Many thanks to my wallet for providing the review samples. Manufacturers and retailers, interested in getting your wares reviewed and publicized on a site averaging 3500+ readers a day? Contact us!