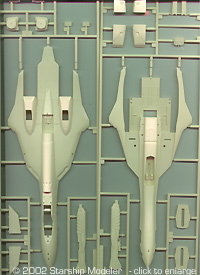 Image: Engine/ tail parts
Image: Wings
Image: Details
Image: Instructions are easy to follow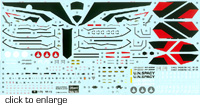 ^ Decals provide all markings
The design was one of the more sought-after Macross "jets"; to my knowledge, Hasegawa's new kit is the first affordable, highly detailed injection molded model.

What You Get

Here's another box overflowing with plastic: you get 8 sprues of a funky cream-colored plastic, plus one of clear parts, for a total of 131 pieces. There's also an extensive decals sheet and instructions. The parts allow you to build the plane as a single- or two-seater, and include two pilot figures (which look small for 1/72 - bust so do all their other Macross figures). It's big, too; the finished model will easily be bigger than many of the 1/48 WW2 fighters on my shelves. The kit does not transform - but since Hasegawa is purportedly working on Battroid and Gerwalk kits of all their fighters, there's a good chance we'll be able to add different modes to our Macross mecha displays in the relatively near future.

Hasegawa's latest releases are all pushing the boundaries of state-of-the-art, and this kit is no exception. Molding is crisp and blemish free - even the ejector pin marks are all in hard to see spots where they exist at all. Engraved panel detail is petite and consistent. You'll want to avoid heavy coats of paint or it'll all disappear! Clear parts are thin, very clear and distortion free.

Instructions are typical Hasegawa: some Japanese text, but all assembly steps shown as exploded diagrams. The assembly seguence is crystal clear. Paint colors are called out in each step, and are referenced to generic colors in a paint chart that has both Japanese and English color names.

The extensive decal sheet provides literally every marking - including the large colored areas on the fins, wings and fuselage. There's a lot of small stencils, and a detailed marking and painting guide to show you where everything goes.
OK, it's a great kit - but is it accurate? The short answer: I think so. The long answer -I've only seen this airframe in the Macross Plus OVA (thanks, Rob!), so if it was in others I can't compare. But as far as I can tell, it's spot on.
Assembly & Finish
Hey, it's Hasegawa. If there's any kit that approaches the fabled "stick-a-tube-of-blue-in-the-box-shake-and-out-comes-a-model", it's one of these modern Hasegawa kits.
Conclusions
I've loved this design since I first saw it - and I'm tickled pink there's an affordable injection kit available now (even if it is in 1/72 scale - I'm a 1:48 geek, myself). It's a kit that almost anyone, including a novice, can build - as long as the high parts count doesn't scare them. Now, dare I dream of a YF-21 - or maybe even some of those crazy bomber versions from the other series/OVAs?
Highly recommended!
Note: Since the first publication of this review, Hasegawa have released a VF-19A kit. It's identical to the kit reviwed here except for decals and the color of the plastic. Also available are option decals with other marking/cammo variations.
Many thanks to my wallet for providing the review sample. Manufacturers and retailers, interested in getting your wares reviewed and publicized on a site averaging 2000+ readers a day? Contact us!