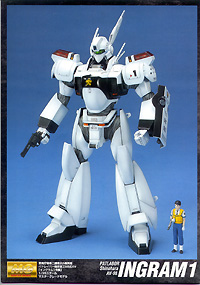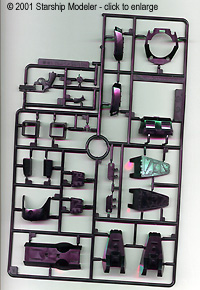 ^ Black polystyrene sprue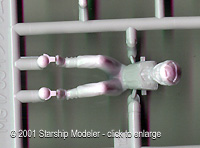 ^ The figure and hands take up another styrene sprue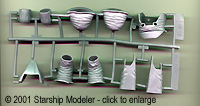 ^ Vinyl sleeves

Image: White polystyrene sprue

Image: Grey ABS sprue

Image: Metal and metallic bits
The series' premise has it that with the introduction of these giant work machines, called "Labors", came the abuse of their technology for criminal purposes. Thus "Patlabors" (a contraction of "Patrol Labors") were developed to deal with these technological abuses.

The lead mech in SV-2's arsenal is the AV-98 Ingram. BanDai has made a kit of this and other mechs from the series in the past, but those were smaller (1/60 scale), less-detailed, over-simplified and not overly accurate. All those shortcomings have been rectified in this release, BanDai's second series of Master Grade kits outside the Gundam Universe.

What You Get

BanDai has pulled out the stops on this kit. You get 14 sprue trees containing injection molded polystyrene, vinyl and ABS parts in white, grey, black and gold-plating. There's well over 100 parts, including screws and wires. All the bells and whistles we expect from a Master Grade kit are there. You get a detailed cockpit with lifting chest armor to see the pilot and all that detail. There are both standing and seated pilot figures representing characters from the show. All the normal weapons are included: baton, long baton and 37mm revolver. The revolver is even stored in the right leg just like the "real" one. And there's three sets of interchangeable hands for different poses, and to grip different weapons.

Molding is as good as it gets. There's no flash and only the very barest hint of a mold seam here and there. The detail is phenominal, with finely engraved panels, sharp relief on raised detail, and nary a soft edge or blurred protrusion where they don't belong. The kit is not merely a pantograph of the earlier 1/60 scale issue; you can see major differences in the parts layout, the detail inside and out, and the available options. Even those troublesome sleeves have been redone (anyone who has built the previous Patlabor kits knows how impossible the vinyl sleeves were!)

Instructions are completely in Japanese. That's a problem if you want to read all the "historical" and "technical" notes that take up the first half of the booklet .... and don't read Japanese. However, assembly steps are presented in the standard exploded diagrams. If you've ever built a model before, you can easily follow what's going on here.

As with every recent BanDai release I know of, markings are provided by self-adhesive stickers. With a little trimming, one can make most of these work as well as decals (particularly the license plates). Those with the means will probably want to scan the set and print it over on decal film (which is what I'll do).

Assembly and Finish

Despite the huge number of parts, assembly should be pretty straightforward. If this is anything like every other BanDai kit I've built, building in subassemblies is the way to go. It's a snap-together, but that has never stopped me from using adhesives (plastic glue and super glue) to make sure the parts stay together. Each release from this company gets better, in terms of fit - I do not expect to have to lop off any guide pins to make everything line up.

Parts are molded in the proper colors, but of course the model will look better painted and weathered. I generally paint the parts first, then assemble, then touch up as neccessary - and I see no reason to change that approach here. The only problem I forsee involves the vinyl sleeves - paint, even specially-formulated cel paint, just doesn't stick to that material (or at least it didn't on the previous Patlabor kits).
Conclusions
Well, if you haven't guessed, I'm really excited about this model. It's not your typical Gundam, it's big without being TOO big to find room for, and it's in a scale where lots and lots of accessories are available. Coupled with the just-released (as of this writing) Labor Command Car and Figure Set the possibilities for vignettes and dioramas should be endless. (Hmmmmm.... we have the 16" Godzilla coming out soon from Polar Lights ......). Highly recommended to mecha fans of all skill levels.
Many thanks to my wallet for providing the review sample. Manufacturers and retailers, interested in getting your wares reviewed and publicized on a site averaging 4000+ readers a day? Contact us!