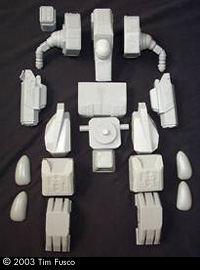 ^ Main body

Image: Smaller parts are equally well done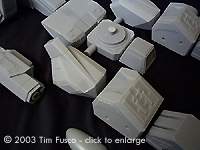 ^ Detail
Battletech fans have always had a limited number of kits available to them. About all that was out there was Dougram kits or Robotech kits…mechs that the game designers incorporated into the original Battletech. Kits of the original designs are few and far between. Large scale kits are even harder to find. Until now, the only large scale kit (greater than 1/60) had been Horizon's Madcat…then cometh the Hellbringer.

Once in a blue moon a kit comes along that raises the bar for everyone. In my opinion, this kit is it.

I am not going to address price. This kit is a very limited run and probably will not be available to the masses in the States. In fact, I had to beg, plead, sell my soul, and promise my first born to get this kit! Why did I do this review then? Simple: Great models and great model makers need to be acknowledged…especially when the work produced is of this quality.

All of the parts were cast beautifully. The detail is sharp and there are no voids. The few bubbles I have found were a result of my over sanding. I have found a few seem lines, but the have been real easy to sand down. Fortunately, the few places I had to sand are going to be hidden. I did end up sanding off a few rivets but no worries…Andy included a baggie of photo-etched rivets! The legs will be static but the arms have joints at the elbow. The ER PPCs will be able to pivot up, down, left and right. The torso will also pivot left and right.

As for accuracy, this kit closely matches all of the TRO illustrations I have seen. Even the armor panels match what is in the TROs. I like that the 'mech has feet that are true to the original TRO illustrations. The Hellbringer has seen many an incarnation in different video games and the feet have often been changed. These are "classic" feet. (By the way, no I do not have a foot fetish).