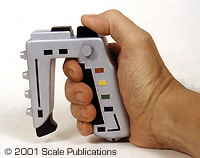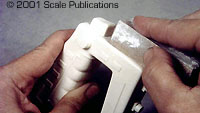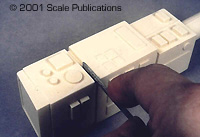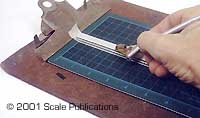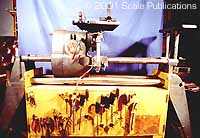 What You Get

The CD contains three multi-page "how-to" articles by professional model maker Richard Marmo supported by 65 color images, plus links to references and suppliers, a reader survey, introduction and table of contents. It's in HTML format so it requires a computer with a web browser to read (but no connection to the internet); if you're reading this page on a computer screen you have everything you need. All material is presented in a clear, easy-to-read format, with plenty of photo documentation of each step. Navigation between pages is simple. Unlike some other self-published works I've read over the years, it's obvious the author has paid strict attention to making this a professional-looking product.

The CD is structured so as to take the reader from the "easiest" project to the most challenging. It starts with the Space:1999 'Stun Gun', both Mark I and Mark II. the author uses this piece to talk about the basics of preparing, assembling and painting a resin model. In the second article, he uses the Space:1999 'COMLOCK' to discuss further techniques, including using decals. In the last piece, he makes some fairly involved modifications to the pistol used by the Sandmen in Logan's Run.

All three articles include a history of the filming prop followed by construction and finishing instructions. They are targeted to the novice builder, with one exception. That doesn't mean there isn't information more experienced builders won't find useful (I'll be hunting up a tool he discusses, the "Dualflex Cutter" made by Excel, thanks to the second article). During each step, he takes time to thoroughly explain what he's doing as well as why, and provides alternative options. The exception to his focus on basic techniques comes in the econd part of the 'Sandman Pistol' article, where he uses a tool many hobbyists won't have. The technique he describes is simple enough to replicate with other means .... but the Shopsmith MK V 5-in-one woodworking power shop makes it considerably easier and faster to bore horizontal holes for pinning parts together with brass tubing.

Conclusions

Are three articles worth the sticker price? They're well written, no doubt, and informative but this CD costs as much as one of the Kalmbach softcover modeling guides. On the other hand, this CD is aimed squarely at the sci-fi builder and I found the information presented easier to "digest" than some of the Kalmbach books. As a fairly experienced model builder, there was very little in it that I hadn't seen before. For someone who has never worked with resin before, however, it could be a valuable reference.


Many thanks to Scale Publications for providing the review sample. Manufacturers and retailers, interested in getting your wares reviewed and publicized on a site averaging 2000+ readers a day? Contact us!