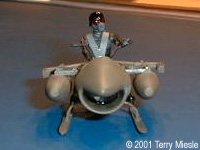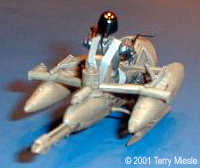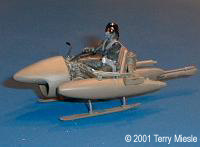 Image: Top view
Image: Front perspective
Image: Rear perspective
The Sharkit Jet Speeder Bike kit is part of a two-bike set sold together. This half of the kit is 10 pieces: 3 body, 2 skids 1 seat, 2 hardpoint racks and 2 droptanks (optional rack and tanks). The android pilot is 9 pieces. The resin is of excellent quality, though several parts are cast in open molds, which means you'll need to sand them on wet paper and a smooth, hard surface. The resin required almost no cleanup, only a few seamlines required sanding, and no filler was needed. I don't need to say this is unusual and most impressive. The builder will need to supply bits of wire for handlebars and skid supports. I used sections of paperclip wire bent with pliers around a tube.

Assembly is straightforward, the graphic instructions are more than adequate. With pieces this small, cyanoacrylate is sufficient. I assembled the landing gear before painting, but left the weapons rack off while painting.

I painted this bike overall Olive Drab, with black and grey details. The pilot has Gunze black/green pants and jacket, gloss black helmet, boots and gloves. I used grey for the head and torso undersides. The 5-point harness is made from masking tape, painted grey.

I don't have a whole lot to say, this is a very simple and well-designed kit and needs no words of warning. The only difficulty you'll have is bending the wire for the landing skids and handlebars. It's an unusual subject, which will fit in with your futuristic 1/35 scale tanks or other vehicles. I highly recommend it.

Many thanks to Sharkit for the review sample.