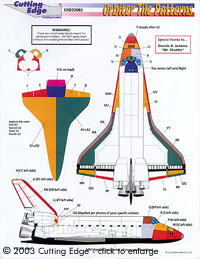 ^ Tile decals placement diagram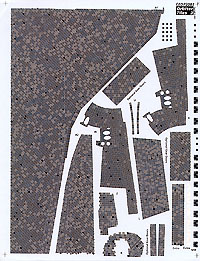 ^ Tile decals (1/72d sheet #1)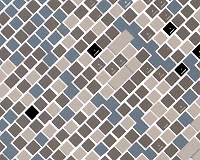 ^ Closer look at a segment of the underside decals

Image: The other 1/72 black sheet

Image: White tiles, 1/72 sheet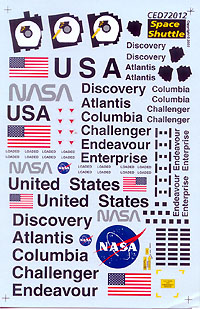 ^ Shuttle markings (1/72d sheet)

Image: Shuttle markings, cover & placement

Image: Profiles, placement guide

Image: Columbia fin tip camera

Image: Engine bells
All sets are based on what the manufacturer calls "extremely precise technical information provided by NASA" (and there's no reason to doubt that claim).

To see current prices in non-US currencies, please click here.

Orbiter Marking Decals

CED44001 - 1/144 scale ($8.99 USD): based on the Academy/Minicraft kit
CED72012 - 1/72 scale ($8.99 USD): based on the Revell kit

Each set is billed as containing markings for all orbiters and all missions. Three different sizes of names (fuselage side and wing), three separate escape hatch configurations, plus payload door hinges, OMS pod black tiles and SRB markings are included. The decals are representative of other Cutting Edge decals - thin, opaque and perfectly registered. They are generally similar to RealSpace Models sheets, but unlike the RealSpace products, do not contain small stencils for the boosters or window surrounds. A quick Mk 1 Eyeball comparison between the Cutting Edge and RealSpace decals shows the Cutting edge names are slightly bigger, while the grey in the 'NASA' is darker on RealSpace's sheet. Realspace provides decals for the window frames, whereas Cutting Edge provides these on their BlackMagic™ vinyl masks - but since no kit I know of accurately portrays the cockpit windows, this is somewhat of a moot point.

Good references are key to correctly modeling a specific Shuttle mission; Cutting Edge realizes this, and provides only generic profiles to guide decal placement on the orbiter. They also give somewhat more clear placement guides for the SRB markings. RealSpace provides more detailed placement guides, but you still really need to find good pictorial references to accurately portray a specific mission.

Which is more accurate, RealSpace or Cutting Edge? Not having access to the TM that covers where to paint stuff, I can't say. If you're building the orbiter alone - either set is fine, in my opinion. If you're building the full stack, I'd get RealSpace's sheet for the extra ET and SRB markings (actually, I'd get both so I could mix and match to accurately portray a specific mission). Because these markings did not need to be physically sized to match the contours of a specific manufacturer's kit, there should be no problem in applying them on any of the various Shuttle models.

Black Magic™ Vinal Paint Masks

CEBM44002 - 1/144 scale ($9.99 USD): based on the Academy/Minicraft kit
CEBM72165 - 1/72 scale ($13.99 USD): based on the Revell kit

These are pre-cut thin vinyl masks that you peel from their backing and apply to the model before spraying paint. They cover the areas you need to spray black or grey (nose, leading edges, etc.) This set includes a number of options to replicate the variations in tile patterns that the shuttles displayed over their operational lives- including several tile patterns that were applied to Columbia's vertical stabilizer before and after installation of the fin tip camera.

These sets should significantly reduce the amount of time needed to mask and paint any of the shuttle kits. They are specifically fitted to one manufacturer's kit in each scale, which means there are some small fit problems with other manufacturer's kits. This is most apparent in 1/144 scale - all the kits available have small outline differences, but the Minicraft product (nee Entex?) on which these sheets are based has the pointiest nose. They are not necessarily intended for use with the tile decals although I'm sure the edges of the dark areas are supposed to line up if you use the suggested kits.

New Ware has just come out with their own tile masks as well. They are also designed to work with the Revell orbiter and contain some additional features that the Cutting Edge sets don't, such as the outer elevon TPS pattern for early Columbia and Challenger and some additional black areas for the OMS pods. Plus, they are designed to work with the RealSpace decal sheet and contain a set of window masks that match up with the Realspace decal very well. If you want to use the RealSpace decals, you may want to go with New Ware's masks. Otherwise, I have found Cutting Edge's BlackMagic™ masks (I've used some of their aircraft sets) to be very easy to use and well worth the reduction in time spent laboriously applying masking tape.
Orbiter Tile Decals
CED44002 - 1/144 scale ($18.99 USD): based on the Academy/Minicraft kit
CEBM72083 - 1/72 scale ($28.99 USD): based on the Revell kit

In years past, modelers replicated the distinct thermal tile patterns on the orbiter by scribing, small squares of tape, and intricate masking. Thankfully, only the most masochistic need to resort to those lengths anymore. Cutting Edge's decals provide all the black and white thermal tiles, top and bottom. A simple, clear placement guide is provided to help you get the correct decals in their appropriate spots. Extra decals are provided, both as simple extras and for the landing gear doors in the open position. This comes very much in handy when building kits other than the suggested ones, as you have extra material with which to fill in any gaps. Cutting Edge suggest that you find a big bowl in which to dip the entire marking (ie, the wing halves) but folks I've talked to had no problems cutting the individual markings into smaller, more manageable chunks and then applying.

There are two principle compalints against these decals:
They're too light. Cutting Edge swears the colors - various greys, mostly - are correct. Others counter they may be correct for an extensively used shuttle just back from a mission, sitting in the VAB where daylight isn't sharply contrasting the white parts with the black parts. The critics may have a point - I've never seen a shuttle except through a telescope, so I can't say for certain. However, it's an easy fix. Apply the decals over a black background and use clear black, or heavily thinned black paint, to gradually darken the decals. Based on my references, I think the colors are accurate for tiles exposed to direct plasma streams on reentry - you may want to darken the nose and underside a little, but not much. The tiles around the cockpit windows, OMS pods, fin and on the upper surfaces of the wings should probably be consoiderably darker - but that's just an airbrush full of Tamiya's "Smoke" away.
The combination of stencils still visible and those burned off during reentry represent one shuttle after one mission - none of the others ill have the same combinations. If this worries you ..... well, you have bigger problems, since none of the decals commercially available can be used without modification in this scenario. There's always scribing all 33,000 tiles and printing your own stencils.....

Resin Replacement sets
CELO72001 - 1/72 scale ($14.99 USD): Superdetailed Engine Nozzles
CELO72002 - 1/72 scale ($3.99 USD): Columbia Fin Tip Camera Pod
CELO44008 - 1/144 scale ($7.99 USD): Superdetailed Engine Nozzles
CELO44009 - 1/144 scale ($2.99 USD): Columbia Fin Tip Camera Pod

No orbiter kit has decent engine bells. Both RealSpace and Cutting Edge supply replacements for the three main bells amnd the two smaller ones. Both are far superior to kit plastic, regardless of kit. The Cutting Edge pieces are cast in their standard tough, smooth grey resin, while RealSpace's are cast in a softer white resin. It's exceedingly difficult to discern any difference between the two, outside of the size and shape of the pour stubs. On closer examination, the RealSpace set have very fine extra detailing along the exterior piping. This may or may not disappear under a coat of paint.

Cutting Edge also supply Columbia's fin tip camera pod in two scales. Both are perfectly cast in their trademark hard grey resin. If you want to do Columbia later in her life, you'll need the appropriate set.

Conclusions

All the available Shuttle kits need help in varying degrees. If you want something that looks more like a scale reproduction and less like a toy, you'll want aftermarket detail products. Cutting Edge's products offer a quick and accurate (depending on your degree of obsession with colors) way to achieve a good Shuttle model, in 1/72 and 1/144. Having used other products in their decal, Black Magic and resin upgrade lines I can say their products are first rate - good quality and relatively easy to use. More ... particular ... modelers will probably want to combine the Cutting Edge products with RealSpace and New Ware releases.

Regardless, you'll need good references. I suggest:

Bottom Line - the Cutting Edge sets are well worth the money. I recommend them to modelers with some experience (three pages of decals are NOT for the raw newbie!)




Many thanks to Meteor Productions for providing the review samples. Look for an in depth usage review soon. Manufacturers and retailers, interested in getting your wares reviewed and publicized on a site averaging 3500+ readers a day? Contact us!