Assembly.

USE COMMON SENSE WHEN BUILDING RESIN KITS (or any kits, for that matter)! SANDING PRODUCES A VERY FINE DUST THAT GETS IN EVERY CREVICE - INCLUDING THOSE OF YOUR LUNGS. GLUE AND PAINT VAPOR AIN'T GOOD TO INHALE EITHER. DO YOURSELF A FAVOR: BUILD IN A WELL LIT, WELL VENTILATED ROOM - AND WATCH WHERE THE HOBBY KNIFE BLADE IS POINTING!

First off - wash the parts thoroughly in warm, soapy dishwater to get all the mold release residue off - worth the effort as this makes the paint adhere much better down the road. I wouldn't use "Blech-White" or any like cleaner - no telling what it would do to the resin.

The instructions consisted of one page with general assembly and painting tips, and a computer drawn painting guide. Assembly was straightforward; parts location is intuitive. Unfortunately, my kit appears to have come from a heavily used mold at the end of it's useful life. Every part had numerous small bumps and pits, and the resin was kind of gummy and hard to sand. The warp nacelles were poorly cast, resulting in a very uneven appearance. The tops and bottoms of the sensor pod and saucer section meet at a knife-like edge; both had divots broke off that were extremely diffucult to repair. There were also large gaps where the support pylons mated with the nacelles that required some tricky putty/filling work. After filling sanding imperfections as much as I dared with 320-grit wet-and-dry paper the ship was ready for painting.

Painting.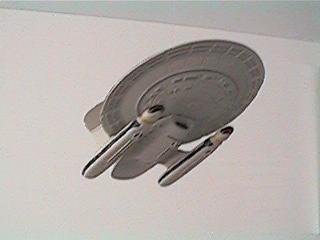 I chose to paint the ship as I saw it on screen, rather than using the blues of the studio model. The ship was painted overall light grey (Testor's Flat Light Aircraft Grey) after the defelector, warp 'grills' and bussard collectors were masked. I didn't bother with 'aztec' pattern markings because I didn't feel they would do much to enhance the ship's appearance.
The lifeboats and phaser strips (and the Starfleet insignia) are prominently molded on the kit - which makes them easy to paint, even if they look several scale meters tall! Lifeboats, phaser strip, and a few panels were painted Medium Grey; the rings around the warp nacelles between the back of the bussard collectors and the warp grills were painted Insignia Yellow with a little copper mixed in. After removing the masking, I painted the warp grills and deflector with Tamiya Clear Blue and the bussard collectors Tamiya Clear Red (and I must say, when the light hits these right the clear colors look very good). The Starfleet banners/flashes were painted using Insignia Red and Insignia Yellow and a very fine brush.

Display/Mounting.

With no undercarriage to rest on the ship is pretty much limited to an "in-flight" pose. I could have mounted this kit on the base and stand provided, but the base was even more poorly molded than the kit. Instead, I drilled a small hole on the top of the saucer near the CG and screwed in a small screw eye. The model now hangs over my workbench on a mobile with the rest of my small-scale Trek collection.

Where to Find This Kit.

If your local hobby dealer doesn't have one, contact FXM directly at

FXM Inc.,
PO BOX 186
Keyport, NJ, 07735 (USA)
Tel: (908) 583-8373