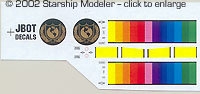 ^ The Buck Rogers Starfighter set enable you to do different squadrons

Image: First page of Buck Rogers instructions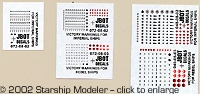 ^ Star Wars Kill Markings for Rebel & Imperial ships, available in two scales

Image: Star Wars kill markings instructions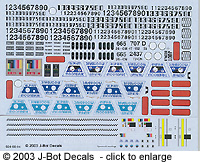 ^ Comprehensive markings are available for three sizes of Eagle Transporter kits. Shown here, for the 44" model.

Image: Eagle instructions include reference images

Image: Decals for the 22" kit

Image: Decals for the 11" MPC/Fundemensions/ERTL kit




^ OCP Taurus decals

Image: Robocop instructions
They're crisp and perfectly registered; even the tniest stencils and markings are perfectly legible. Being ALPS-printed, they're also very thin and (based on my experience with others of the type) should respond well to mild setting solutions like Micro-Sol (Champ and Walthers generally make such decals curl up and die though, so you'll want to test before using strong solvents).

Instructions include one or more color reference images to help with placement, as well as text describing how to use the decals. They're clear and easy to follow.

Starfighter

Not having a Starfighter to compare against at the moment, I can't say how well the decals will fit where they're supposed to go. They certainly look accurate enough, based on the references I have. There should be no problem finding spots to place the kill markings on various Star Wars ships - and there are two scales available, so you should be able to provide an impressive tally to any of the available fighter kits. As a bonus, shoulder/helmet patches are included so you can properly outfit the pilots as well.

Eagles

Three sizes/scales of decals are available to dress up your Space:1999 Eagle Transporter kits: 1/24 (44"), 1/48 (22") and 1/96 (11"). Markings - which are primarily based on those applied to the 44" filming miniature - are included for both Season 1 and Season 2 Moonbase crests, including gold accents; numbers and stencils to make any style of transport (survey, rescue, etc.); checkerboard and striping; various internal and external panels and stencils; and even astronaut shoulder patches. As with the other sets, printing is sharp, perefectly registered and clear, though the smallest markings (except blak ones) are just a little fuzzy due to the limitations of the printer. Still, they're quite acceptable.

The instruction sheet provides hints for using the decals and a selection of reference images from the actual studio models. It would have been helpful to include a diagram that explicitly deliniates where each marking is to be placed. A careful search of online resources should provide enough of that info.

OCP Police Cars

The 1/24 (1/25) decals for RoboCop's OCP police cars is as nicely printed as their other sheets. An advantage to the ALPS-printing method J-Bot uses is that it can replicate metallic colors through the use of metallic cartridges. This is shown to good effect on the Robocop sheet. The markings appear quite accurate; you get five styles of door shields covering the different vehicles shown in the movies, a set of stencils to make any number vehicle you choose, and two bar-code license plates. About the only problem I see with this set is finding the appropriate model Ford Taurus to convert!

Conclusions

These sheets are welcome additions to the sci-fi kit aftermarket, and I look forward to seeing more from this producer. The price is quite reasonable for what you get. I highly recommend these if you have the models on which to use them.




Many thanks to J-BOT Decals for providing the review sample. Manufacturers and retailers, interested in getting your wares reviewed and publicized on a site averaging 3000+ readers a day? Contact us!