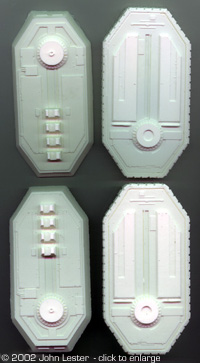 ^ Sponsons come in inner and outer halves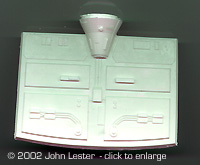 ^ The rear decking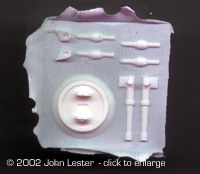 Underside turret and blaster pieces

Image: In this image you can see some of the casting flaws. They're easy enough to fix, if a bit tedious.

Image: Instrctions are clear and adequate.
I have, however, been intrigued by the idea of converting the old MPC/ERTL TIE/Interceptor into a tank ever since I saw the drawings in Star Wars: Essential Guide to Vehicles & Vessels. The project was just a pipe dream until I saw the news of The Fourth Axis' first kit conversion release.

What You Get

Inside the box are 14 resin parts (2 each for both track assemblies/sponsons, a rear deck, bottom turret, weapons' mounts and halves for all three blasters) and a one page assembly guide. You'll also need the command pod from an MPC/ERTL TIE Interceptor - though I suspect one from the ERTL TIE/Fighter kit will work as well.

The resin parts are fairly well detailed, with raised tracks and panels, fine fastner details, and the like. The parts, especially the inner halves of the track supports/sponsons, appear to have been sterolithographed - they have a jagged surface that looks like a "grown" model. This should be easily fixed with putty. The outer surfaces of the sponsons have a weird, wood-grain like surface pattern that will be a bit more tedious to remove without softening too much detail. All the parts appear to have been cast in ambient-pressure, one-piece or "open" molds, which means they all need to have their backs sanded flat to get a good, flush, mating surface between them. (Ter, can I borrow your belt sander?). The small pieces are cast on a single resin "wafer", which makes them a bit of a chore to remove and clean up - but prevents them from coming adrift before you start working with them.

Another consequence of the molding is a host of bubbles in the nooks and crannies of the kit pieces. They are especially prevalent inbetween the track pads and on the corrugated underside of the rear deck. If you plan to make your model as an imperial museum piece, you'll need to spend some time carefully cleaning all this up. I, however, plan on showing this as a dirty, beat-up vehicle in the field - which means I can cover a lot of the defects up with mud, grass and other "weathering".

Assembly and Finish

Dry-fitting seams to indicate that the pieces will fit well enough, once the mating surfaces are sanded down. Clever engineering has eliminated most of the seams that would have to be addressed, so if you're careful, you'll only need putty to fix the rough patches on the surfaces. I don't have a TIE/Interceptor kit with which to check the fit of the resin to plastic, alas.

As for painting .... well, since I know of no "canon" reference for the vehicle, the sky's the limit. Imperial TIE blue-grey? Camouflage? What you choose is up to you.

Conclusions

The kit is a bit pricey for the amount and quality of what you get - but not out of line for a short-run, hand-made kit. The defects are well within the abilities of most modelers to correct - certainly anyone who has wrestled with the ERTL plastic kits. If you've never tried a resin kit before, this could a good one to learn on.

Recommended.




Many thanks to my wallet for providing the review sample. Manufacturers and retailers, interested in getting your wares reviewed and publicized on a site averaging 3000+ readers a day? Contact us!