By Paul Heaberlin -- © 1999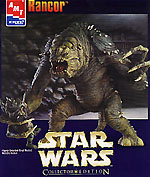 How often does the phrase "work of art" and a science fiction model from ERTL go together? Although last years TIE Fighter twin pack was very close, but not until the Rancor can this be said. This model is fantastic! Beautiful detail (as you can tell from the pictures)! Enormous size (fully a foot tall and a foot wide)! Great price (under $30 in most places)!
The kit includes two figures - the Rancor beast (14 parts) and squealing Gamora Guard (5 parts). You also get two instruction sheets one pictoral assembly guide, and one general 'working with vinyl" guide. All parts are molded in sturdy grey vinyl - so you'll need to use superglue or epoxy to assemble the pieces, and an acrylic primer coat (at least) to paint it. The pieces are crisply molded and highly detailed - and unlike previous ERTL figure kits, this one actually looks like the subject!
Everything about this model is great, so this ain't much of a review. The only small problems I have are probably my fault. I have a gap by the right leg that shouldn't be hard to fix. And there is a rather large gap on the right shoulder that looks as though the shoulder hole is too wide for the arm to go into. I had this same problem on Horizon's Cable-which once I played with him awhile, I realized it was a matter of heating the two parts with a hair dryer until they lined up correctly. Also, my legs don't stand flat, but that can be fixed by heating them once he's done, and cooling them off once they have been repositioned.
So, if you have looked at ERTL's other figure kits and retched, fear no more! The Rancor is a must buy!