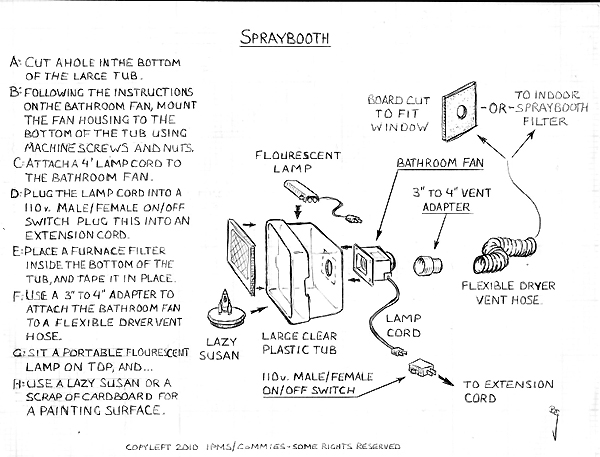 ^ Indoor Spray Booth Plans



Spray Booth: What You Need*
Large, clear-plastic storage tub
Bathroom fan
4' (or longer) lamp cord
Vent adapter (3" to 4", or whatever fits both your bathroom fan and dryer hose)
Flexible dryer vent hose (3")
100v male-to-female on-off switch
Disposable furnace filter to fit inside bottom of tub
Optional: wooden panel to fit window, or indoor spray filter
* USA/Canada -- elsewhere, your voltage may vary.
I've talked to a few people since the CoMMiES plans were posted. Most are suggesting concerns about using a bathroom fan as this type can present a spark hazard which could ignite the paint fumes in the airstream. While I've been using my rig for several years now without an issue, it's important to note that a small danger does exist with any fan where the motor is in the airflow. This is particularly true when you're using solvent based paints and acrylics cut with alcohol (not so much if you're shooting acrylics cut with non- solvent thinners).
One of the folks I discussed this with was Jeff Goldader who suggested using a marine bilge fan instead. I looked at a few and feel they might be a good solution since they're inexpensive (I priced some in the $20 - $30 range). They move a lot of air and the fan motor doesn't touch the airstream. The only complication with this type of fan is that many run off 12v DC at 6 or so Amps. One would have to incorporate some sort of high current AC-to-DC conversion into the design. I haven't investigated that yet but I think it could be somewhat expensive.
There are other choices for fans that are explosion rated. One suggestion in the past has been the squirrel cage blower type. While these provide you a safety margin, they tend to be more expensive than the others and it's been my experience that it can be difficult to select one that's appropriate for the spray booth scenario.
There are a number of things to consider when selecting the pieces and parts for a DIY paint booth. My rig has been doing me well for a few years now. Your mileage may vary. I'm sure your solutions will be fine as long as you put some thought into the design.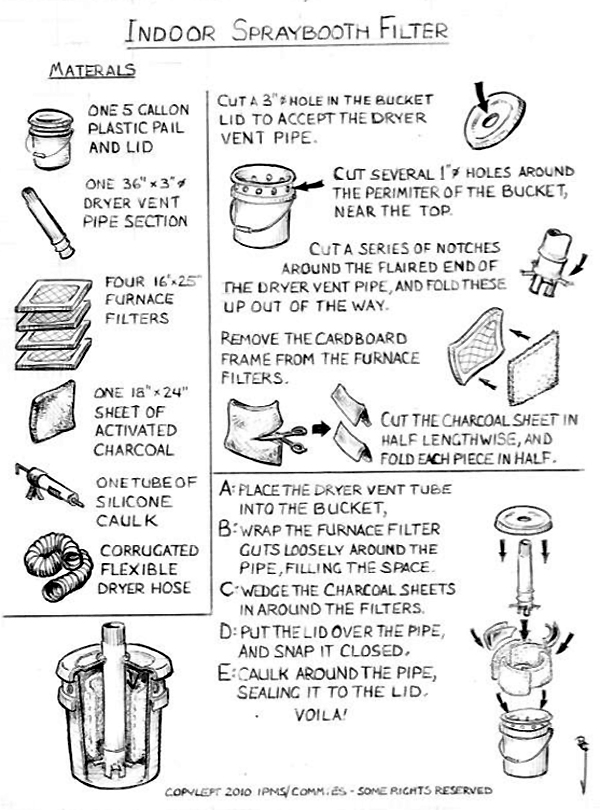 ^ Indoor Spray Booth Filter Plans



Indoor Spray Booth Filter: What You Need
5-Gallon plastic pail with lid
3" Diameter x 3' druer vent section
4 x Disposable furnace filters
18" x 24" sheet activated charcoal
Indoor/Outdoor silicone caulk
Optional: 3" Diameter flexible dryer hose (to connect to spray booth)
Click here: Download the above as a PDF