Tip: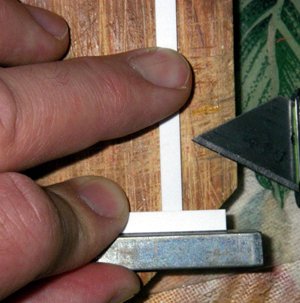 I developed a simple setup for quickly cutting out several similar square pieces of styrene from a strip. In my case, the strip was 0.060" x 0.188", and the squares were/are intended for detailing the bottom surface of landing pads for a Lunar cargo carrier (which I decided to build just a few days after finally eBaying off two Millenium Falcon kits which had been sitting unused for over 15 years and would have provided the necessary landing gear).
To make 0.188" square strips, the end of one strip is abutted against a stop, such as a 1/4" square x 12" long metal piece (available from better hardware stores under varying names machine keys, key stock, etc. - an alternative might be a marble block from a yard sale bowling trophy), extending out at a 90-degree angle from the stop. Then a similar strip is snugged alongside the stop, atop the first strip to serve as a depth gauge to guide the knife. A utility knife is used in the other hand to cutting partway through, before snapping off the square. It does take a bit of practice to be able to hold the stop and both strips steady and clear of the knife, applied with the other hand.
With styrene strips of the desired width, this technique could also be used to cut nearly identical rectangles from a styrene strip.