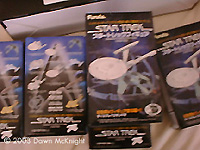 ^ The boxes do not reveal their contents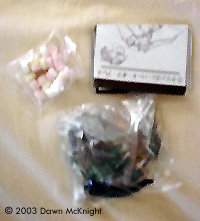 ^ This one held a BoP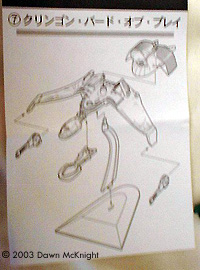 ^ Instructions are easy enough to follow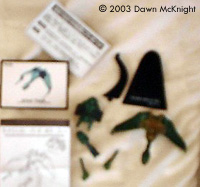 ^ Small, but reasonably detailed and quick to assemble
To my pleasure, I found that there were Star Trek trading kits soon to be released and preordered two boxes (a total of twelve models).
Shortly thereafter, the postman brought the box with my two packages in it. The packages were labeled with 'Star Trek' in English and Japanese, which cleared up any confusion.
What You Get
As promised, the kits are not individually identifiable from the outside. Each one is packed in an identical box, which shows the available kits, as well as a silhouette for the 'Mystery ship.'
Inside each box is a mylar bag (which still gives no identification of what specific kit is inside) and a bag of ramune flavored candy. I found the candy to be overly sweet, but your mileage may vary.
Inside the mylar bag, you could at last find out what model you had. The possibilities include USS Reliant, USS Enterprise-A, the Klingon Bird of Prey, USS Defiant, a Klingon attack cruiser, USS Stargazer, USS Equinox, the Species 8472 Bioship, Deep Space Nine, and a Galor Class warship.
The kits average about three inches (7 centimeters) long, or about two and a half or three times the size of the MicroMachines treatments of the same ships. They're made of plastic, and don't actually require glue... though I imagine serious collectors will glue them, anyway, as some of the joins aren't as tight as they might be. They're also pre-painted and have decals pre-applied.
These kits are not highly detailed, but they are nice, for toys. They'd be perfect for a child, or a beginning modeler who just wants to have a starship to put together, without much difficulty. And they're the perfect size for building mobiles with the AMT/ERTL DS9 model, or for using as monitor gargoyles at work.
Surprisingly, HLJ lists the kits as out of production already, and all of the American sites I've seen for them want $35-$50 for a set of six... which might well be too much for the size and quality.
Conclusions
In summary, these would be a great gift for a child, or for someone who has been thinking about getting involved with modeling, but has been daunted by the size of other kits.
And... they're cool for those of us who are just plain starship geeks, too.
(By the bye... I have 2 Klingon Birds of Prey, a Defiant, and a Bioship that I'd trade for an Enterprise, a DS9, or the mystery ship...).
Many thanks to Dawn's wallet for providing the review sample. Manufacturers and retailers, interested in getting your wares reviewed and publicized on a site averaging 3500+ readers a day? Contact us!