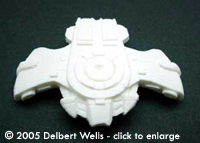 ^ What you get (well, half of it)


What You Get
This model comes 2 per ziplock bag. Assembly instructions are not provided since this is a one-piece kit. As with all of Ravenstar's kits, decals are not provided, so finishing this model will require some creativity.
Mold seam lines are minimal, but they do obscure some detail on the rear. Some rough areas are evident, but can be easily removed by sanding or filing.
Since no instructions, painting guidelines, or decals are provided, the finishing is left completely to the builder's imagination. However, the color palette, paint style, and markings of the Defiant would be a good place to start.
Conclusions
This is one of those Federation designs that I've always wanted, and I was planning to scratch-build one of these ships myself, eventually. But Ravenstar did a great job on this one, and saved me the time and trouble of making it.
The Valiant is that perfect little ship that will add some style and flair to your 1/2500 scale fleet!