Also included is about five pounds of shredded packing newspaper (make your own TOS effects!). The model comes securely packaged in shredded newspaper with the four smalller parts (the nacelles) securely packed in a tiny ziplock baggie.

Detail

The model's detail is extremely impressive. Several details that are only represented as decals on the 1400th version of this ship are molded on this tiny wonder of a model (most notably the grey recessed panels along the ship's "spine"). All the ship's lifeboats are raised and molded on the ship's hull (easy to paint with a steady hand and some drybrushing).

As a picky reviewer, I should point out that a few windows are crooked and from the CGI images I've seen the model is missing a few windows on the saucer's dorsal side. Also of note, the bridge is slightly off center (prahaps by .05mm).

Instructions

Intructions are one photocopied sheet and are adaquate for assembly -there is an added paint guide on the same sheet. The paint guide looks correct except for the deflector -which should be bright blue with a yellow-orange center piece. Look online to get painting refrences (hint: you're already online).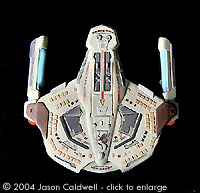 Image: Instructions
Image: Ships, primed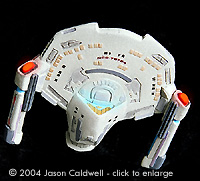 Assembly
Dry-fit the warp nacelles prior to attaching them- I found that a bit of work with a sanding stick (read: emery board) will save you much aggravation later. Aside from that bit of sage advice, it's a snap.
As with any resin model, be sure to wash this model in warm, soapy water to clean off any mold-release agents. With this model in particular, I HIGHLY reccomend using Comet cleaner (or something equally abrasive) to give the paint some "tooth" to adhere to. Initially, I used dishwashing liquid to clean the model and even with primer I ended up shamefully hosing Easy-Off on my models and sarting all over. (Lo-Ser, I know)
After cleaning the model properly, I primered it with automotive primer from ye old hardware store and began painting in earnest. I also filled in the ship's windows with putty (not required by any means, but I intended to replace them with decal versions).
I started painting with a base coat of Testor's Flat Light sea Grey and oversprayed the model with Light Aircraft Grey to lighten it up a few shades. All the detail work is molded on and quite easy to paint with a steady hand and some paitence. I weathered the model slightly with some thinned black enamels. Lastly I added the bright blues, oranges and purples of the main deflector and nacelles.
The model looks great fully painted, but I've never been one to leave well enough alone, I took some decals from my "spares" file and made a registry via Adobe Illustrator to complete the models. I'm sure someone will offer a complete decal sheet for this ship soon enough.
Final Thoughts
This is among the top five models I've ever had the pleasure of building in 2500th and the overall quality (as well as the customer service from Odyssey Slipways) is among the best in the garage industry. This is an impressive first venture into the scale of 2500th for Odyssey Slipways and would make an excellent first resin model for any fan of the Star Trek universe.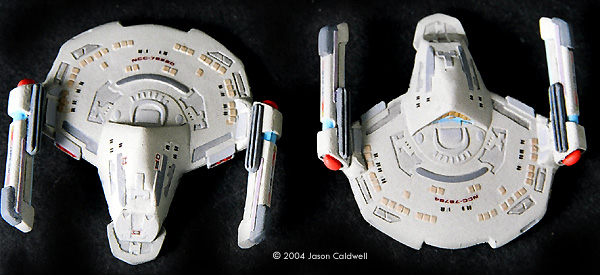 Many thanks to Odyssey Slipways for the review sample.