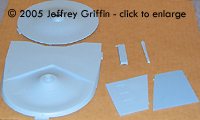 ^ Parts (tops)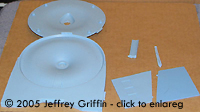 ^ Parts (bottoms)

Image: Decals

Image: Decal placement guide

Image: Instructions (Word doc)


Over 20 years years ago, a company called FASA put out the first Star Trek Role Playing Game. Supplemental material that came later was the Federation Ship Recognition Manual, which included a grand total of fourteen different designs used by Star Fleet for the purposes of this RPG's game world. One of those ships included in that very first release was the Larson-class destroyer. While it wasn't necessarily innovative in that it had a single nacelle, it was certainly a stand-out design in that it mounted that nacelle above the hull. A later edition of the same book was released with very similar views of the same ship, but with an expanded background. FASA also released a lead-miniature of the ship design not long afterward. Ever since that initial recognition manual release, I've wanted one of these. Now, thanks to Terry Meisle, Blap! Models and the Starship Modeler Kit Factory, I've got one in 1/1000 scale!
I was fortunate enough to purchase one of the first copies of the kit from Starship Modeler Kit Factory. I'm happy enough w/the initial peek at this to be quite satisfied to have added it to my growing Star Fleet in 1/1000 scale and am considering purchasing a second as a gift for a friend.
What You Get
The kit consists of a 6 pieces: Upper saucer, lower extended hull, port & starboard pylon assemblies and impulse accelerator piece. No stand is included.