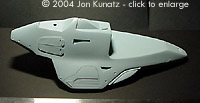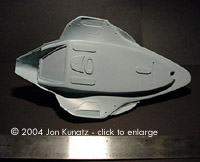 ^ Underneath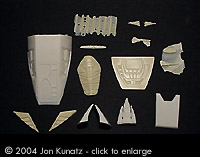 ^ Detail parts

Image: Front view, hull piece

Image: Decals

Image: Instructions


I acquired the kit at this years Wonderfest, after hearing about itís production for the past year or so while imbibing on one of my favorite pastimes, surfing the net. It seems as a few others had the same thing on mind as I acquired the second to last kit, and im glad I didnít miss out.
What You Get
The kit consists of a fuselage hollow cast in light blue resin. I expected the thing to weigh a ton, but was surprised when I first held it. This is my first time experiencing a hollow cast kit, and I can reasonably say im impressed. The detail on the body is very well done with no major defects. There is a mold parting line to take care of, and some of the panel lines will need rescribing because of extra resin squeezing through, but this is nothing major that anyone with a few years model building experience canít handle.
You also get a Ziploc bag with the detail parts. Cast in solid tan resin, these consist of the detail parts and the cockpit, rear radiator baffle and phaser strips and the like.
Assembly and Finish
Assembling the Flyer should be no big deal. The instructions are clear and well drawn and only a true buffoon could louse building the kit up. (No offense to any buffoons out there) Follow the instructions, painting guide, decal placement guide and there you go: one Delta Flyer.
Conclusions
This kit will be fun to build. I always liked the Flyer, It is a radically different design than your standard fare of Federation shuttlecraft. And someone had the fortitude to actually make one in 1/72nd scale, to that person I say "Thank you". I would love to see a trend started by this kit. Shuttlecraft have always fascinated me as much as the Star Trek capital ships have. Oh would it be nice to see more shuttlecraft done in this scale, like the Argo, Type 12, or even a larger Speedboat
Many thanks to all those who had a hand in creating and producing this kit. If no one beats me to the punch, I may do a follow on to this preview with a build up review. I may be so bold as to even scratchbuild a set of landing gear for the craft.
Many thanks to Vir's wallet for providing the review samples. Manufacturers and retailers, interested in getting your wares reviewed and publicized on a site averaging 3500+ readers a day? Contact us!