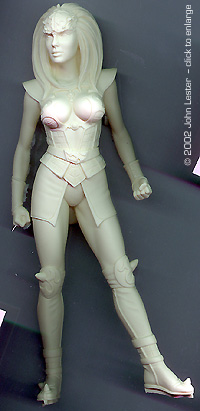 Image: Rear view
Image: Her shield and tagger are cast in pewter
Image: Included is rather hefty base
Now, I'm not much into figures - well, figures of fantasy females anyway - but she looked so good, and the show price was $20 less than the "regular" price, so I whipped out my wallet and plonked the last of my spending money down for a copy.
I'm glad I did.
What You Get
Inside the box are two resin pieces (the commander and a pedestal on which to place her) and two metal pieces (her shield and weapon). The kit was sculpted by Mike Cusenelli - if you know anything at all about figures, that name is familiar. If not, suffice it to say he's one of the best in the business. Detail on both the resin and pewter pieces is sharp or smooth where it needs to be. About the only nits I can find to pick are that the weapon's blade seems thick (no doubt due to the limits of the casting process) and the back of her shield is flat and un-adorned (how would it stick to her arm, via tractor beam?). Both are minor and easily fixed if you so desire.
All too often, the figure kits I've seen require a lot of work to clean up. Not this one. The casting is almost flawless - just a very little flash and a barely noticeable mold seam on one leg. No pits, no bubbles lurking just under the skin, no uncured resin waiting to ooze out on you (yes, I've seen that before in a figure).
Assembly & Finish
Assembly is a no-brainer. Paint parts. Glue together (the blade affixes to a band on her right arm). What I find cool about this figure is the painting possibilities. She's big enough that I can use an airbrush and practice my techniques.