The Relaint is one of the most popular ships in Star Trek®, right along with the Enterprise herself and the Akira.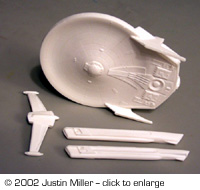 The package arrived in a sturdy box with foam peanuts. The pieces were well defined and arrived undamaged. Details are clear and sharp. Personally, think this kit is more accurate in details and proportions than Ertlís big kit. There is a little flash on the major parts, and a mold seam along the engine nacelles, which will be easily removed with sanding sticks. On my kit there were a couple of small holes on the roll bar support struts that I will fill with gap filling super glue. Iím estimating that clean up and prep work on this kit will be around 30 minutes.
The kit includes an arrowhead base, but you will have to supply the mounting rod.
Assembly is straightforward. Attach the nacelles to the struts and the roll bar to the supports on the top hull and you have an instant starship.
At 1/1400 scale the model is small, but not so small that you do some aztec paneling or add details if you wish.
Conclusions:
This is a good kit at a reasonable price that will make a fine addition to your miniature fleet.
Many thanks to Justin's wallet for providing the review sample. Manufacturers and retailers, interested in getting your wares reviewed and publicized on a site averaging 2000+ readers a day? Contact us!