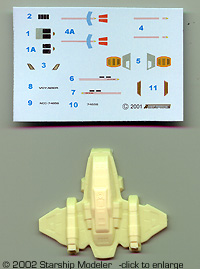 ^ Aerowing with decals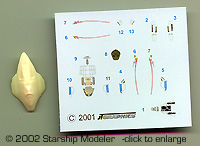 ^ Delta Flyer & decals

Image: Speedboat shuttles and decals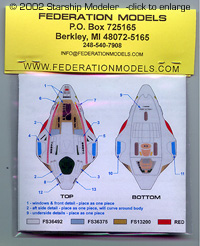 Image: Aerowing paint/decal guide
Image: Speedboat paint/decal guide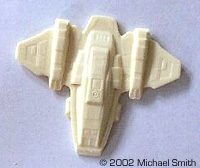 Image: Aerowing underneath
It's too bad Revell/Monogram's Voyager is out of production because these three new accessories are just perfect for dressing it up - especially the "Limited Edition" kit with it's open shuttle bay. Liquid Space Models has produced three 1/677 models of Voyager's small craft:
Aerowing
Delta Flyer
"Speedboat" Shuttle
The Aerowing and Delta Flyer come one per package while there are three Speedboats in the latter package.
What You Get
Each little zip-lock bag contains the one-piece resin model(s), instructions for preparing and painting them, ALPS printed waterslide decals printed by JTGraphics, and a color/decal placement guide. The resin "parts" are cleanly cast with very little in the way of flaws (my sample of the Speedboats had some flash and some extraneous bumps on all three models). Detail is pretty good, considering how small these critters are. The Aerowing seems to have the most, but then it's the biggest of the three sets at about an 1½"/ 4cm long; it has engraved panel lines in addition to the windows and warp pod details.
Decals are provided to cover just about everything on the various craft. All you need to do is paint the basic hull color and some sensor areas - the rest is provided by a decal (though you can paint other things if you wish). As with every JTGraphic decal I've seen, the printing is sharp (as sharp as an ALPS can get) and perfectly registered. Placing the decals in their correct locations is made simple by the comprehensive, full-color decal/paint diagrams included in each packet.
As for accuracy ... well, these models look the part, especially considering their tiny size.
Michael Smith has this to say about the Aerowing:
Santa was good enough to bring me Liquid Space Model's newest entry to the Federation Starship lineup: Voyager's Aeroshuttle this past Christmas. Modeled in 1/677th scale, the Aerowing shuttle, a one-piece resin model in scale with the large Voyager model from Monogram. At only a couple inches long it fits the profile on the ventral primary hull of Voyager. Included in the package is an excellent 2-page booklet showing a picture of the CGI image from the recently published Starship Spotters guide, a decal instruction, and a comprehensive painting guide complete with FS numbers.
My sample is exquisitely detailed, free from pits and bubbles, with only minimal cleanup required around the edges and the backs of the nacelles. It's basically a 2-hour clean up and paint job, although I have bigger plans for mine. I plan to create a shuttle bay for my yet-to-be-completed LE Voyager model. I'm hoping someone can offer some clues or concept drawings of the bay, but I believe I'm heading in the right direction by starting off with a shuttle bay that fits the Aerowing's profile.
The only reference I have is from the new Starship Spotter's Guide where, for the first time, we get a glance at the Aerowing (it was never spoken of during any Voyager episode). This image is also on the cover of the booklet that comes with the model. From what I can tell, this model is dead on to that image. The bottom side also contains more crisp, 3-dimensional detail than what is on the Voyager model. The decal set is typical JTGraphics (beyond excellent).
I'm looking forward to completing this model and displaying it next to Voyager (or locked into Voyager, either way). I've found that cleaning is essential to a good finish with resin. I usually start with dishwashing detergent, and then move up to Acetone, then finally prime with Floquil Primer. Krylon and other industrial primers won't stick as well as the Floquil.
Conclusions
If you have the Revell/Monogram Voyager model then these are quick, easy and good-looking accessories to dress it up with. Inexpensive, too - you can get all three for about what the Voyager kit retailed when you could still find it in stores (it's running $50 or more on eBay and other internet sources at this writing). You can even get several packs of the Speedboats to model the endless stream of these shuttles that Voyager seemed to carry ....
Highly recommended.
Many thanks to Federation Models and Santa Claus for providing the review samples. Manufacturers and retailers, interested in getting your wares reviewed and publicized on a site averaging 2000+ readers a day? Contact us!