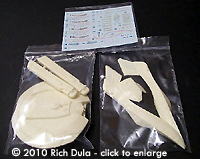 ^ What you get

Image: Main hull

Image: Hull and boom

Image: Decals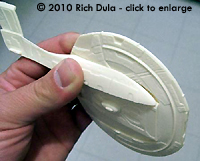 ^ Test fit

Image: Mind the gap


The Akira exists only as a CGI model, which has led to quite a bit of discussion as to how big the "real" ship is. Various references show the size of the ship ranging from 262.13 meters all the way up to 499 meters. Ex Astris Scientia has an entire page devoted to the discussion of the size of the ship.
What's Included
I have the older Jupiter Station kit of this ship, and a few things have changed. According to Odyssey Slipways, this kit is a re-mastering of the kit previously offered by Jupiter Station. It was detailed prior to Odyssey receiving it, and it's my understanding that the person who mastered the original model added the detail. In some ways the re-mastering has improved the original kit, but in others it has made the kit more difficult to build. I'll detail the potential challenges later in this review.
A lot of additional hull detail, including windows, has been cast into the kit. Hull paneling and detail is greatly improved over the Jupiter Station kit. The detailing is fantastic and really brings the ship to life.
There are a total of six parts in the kit - primary hull, two booms, two nacelles, and one weapons pod. The kit is cleanly cast in Odyssey's standard off-white/beige resin and is free from voids or bubbles. The surfaces are smooth and don't have any texturing, so very little sanding will be needed.
A nice sheet of waterslide decals is included, and features a choice of four names - Akira (NCC-62497), Rabin (NCC-63293), Spector (NCC-65549), and Thunderchild (NCC-63549). The decal sheet also includes Federation hull markings, lifeboats, and some stencil markings. No window decals are included, but with windows being cast into the kit itself, they can be either painted or drawn in