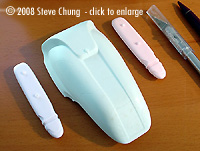 ^ Kit parts (after some filling of pits)

Image: Box

Image: Parts after priming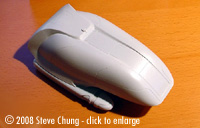 ^ Fit check of parts after priming

Image: Assembled kit after painting

Image: Right side

Image: Left/rear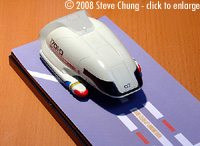 ^ Done, with base

Image: Right side

Image: Front

Image: My revised decal art


The smooth curved shape of the hull was difficult to model in a full scale mockup, and the Type 7 was eventually superseded in the series by the geometrically simpler Type 6 shuttle.
Unlike other ships from the series, I have never seen production kits or replicas of the Type 7, so I was excited when I found out about this kit. This kit was intended to represent the original concept design of the shuttle, mainly identifiable by the long side windows. The decals and marking instructions follow this configuration. I wanted to build the model in the configuration as it was seen in the fourth season of the television program, so this required the creation of a number of custom decals.
Parts
The parts, instructions, and decals are packed in a cardboard box with foam pellets. As mentioned in a preview of the kit, the designer's autograph is on the outside of the box. There are the main hull and two engine nacelles, made of resin. The nacelles are identical and interchangeable between the starboard and port sides. An odd thing about the three parts is that they were all cast in different colors of resin. One of the engine nacelles was molded in pink, which made it require quite a bit more primer to paint correctly. The most significant issue encountered with the parts was a noticeable amount of pitting near the forward end of the main hull. Applying a small amount of modeling putty and sanding resolved the problem. The construction is very simple, and the positioning of the engine nacelles is pretty self-evident.
Painting
The majority of the effort in making this kit was the painting and detailing. Most of the hull is a two-tone color scheme. The instructions call for FS37722 for the upper side of the hull. Not being able to find a model paint with that FS number, I used the closest match I could find, "Aqueous Hobby Color" H21 (Off White) for the upper hull color. The interface between the two colors wraps around the back part of the hull, and the boundary is difficult to mask. I found it easier to paint the lower hull color first.
I chose to paint the engine nacelles in a "powered up" appearance. The parts of the actual filming miniature are translucent and illuminated by lights, and so look black when they are powered off. The instruction sheet recommends FS28915 (Fluorescent Red); this looked too orange by itself. I created a mixture of Testors No. 4632 (Guards Red) and Fluorescent Red to approximate the color in photographs. Not being able to find FS 23564, the panels with the aft RCS thrusters and position lights were painted FS33613 (Radome Tan).