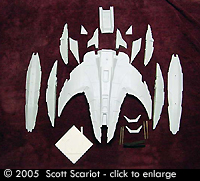 ^ What you get



Image: Main hull, top

Image: Bottom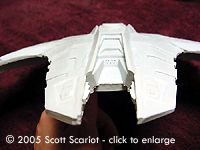 ^ Front of the main hull

Image: Rear of main hull

Image: 'Wing' detail

Image: More wing detail

Image: Warp nacelles

Image: Detail

Image: Larger warp nacelles

Image: Nacelle and pylon

Image: Bridge area

Image: More detail

Image: Underslung pod

Image: Close-up of pod detail

Image: Other side

Image: More hull detail

Image: Base/stand pieces

Image: Assembly guide

Image: Paint guide, page 1

Image: Page 2


The rumors that Starcrafts was working on a 1/1400 scale Jem'Hadar Cruiser started three years ago. Then, last year at WonderFest, some people (myself included) saw parts of this kit. Well, this year at WonderFest the kit was ready.

What You Get

In the large box, there are 17 resin pieces, four pieces of brass rod and two strips of felt for the stand. The main body was rotocast to save on weight. This is the largest part in the box.

I have to say, I think this may be the most detailed Starcrafts kit ever. The body is well cast, though there are a few holes from bubbles. Some of the alignment pins didn't cast, but that's no big deal as I'll probably replace the resin pins with brass rod to give the joints just a little more strength. The other parts in the kit are solid resin. The main engines are very well done. They have nice crisp lines and have lots of detail all over them.

Another nice thing about the kit is that Starcrafts uses a few tricks to keep the weight down. The first was rotocasting the main hull. There is a large pod that mounts under the main hull that was cast in half rather than in one solid piece to save on weight.

This is the first Starcrafts kit that includes a stand that does not require a hole be drilled into the model. The stand is made of two resin parts, the four pieces of brass rod and contains a large copy of the Dominion logo. The "pod" on the bottom of the model will fit right into the stand.

Conclusions

I like this kit. Its size is very impressive and it's very well done. The molding quality is good and construction looks like it should be straightforward. I have only one issue with the model and that is its price. I bought the kit because I had to have one, however, I think the price may put it out of the range of some modelers. I should also mention that a set of Starcrafts' Jem'Hadar fighters is included in the price of the new cruiser.

All that being said, I think Starcrafts has a winner with this kit.




Many thanks to Scott's wallet for providing the review samples. Manufacturers and retailers, interested in getting your wares reviewed and publicized on a site averaging 3500+ readers a day? Contact us!