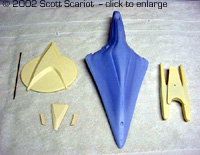 ^ What you get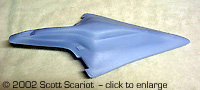 ^ Detail on the hull is quite good

Image: Hull, underneath

Image: Rear of the hull

Image: Nacelles are one piece you affix to the hull

Image: Side view

Image: Top of the nacelles

Image: Instructions are adequate

Image: Decals

Image: A base and stand are provided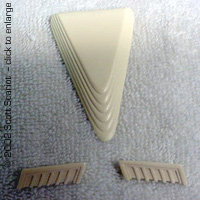 ^ Deflector and engine inserts
The Dauntless is a very interesting design, very streamlined and speedy looking. Since the Dauntless was a ship of the week I never expected that a model of the ship would ever be produced. I was surprised to find out that someone did. This year at WonderFest Federation Models premiered several kits from Alliance. Among their kits was the Dauntless. I could not pass the kit up. The example that was on the table looked so good I had to buy it.
What You Get
When I opened the box I found the instruction sheet on top. The instruction sheet is a one-page guide that includes assembly, painting and decal placement. The decal sheet is pretty small. It consists of the lifeboat hatches, ships name and registry number, and some pennants. The model it self is made up of five pieces The "Saucer"(It really shouldn't be call that since it looks more like an arrowhead than a saucer, but that's the Starfleet tradition), Nacelles, The Main Navigational Deflector and two Impulse Engines. There is also a resin base. I also found in the box a copper rod. I do not know if this is a standard feature of this kit or if it found it's way into the box accidentally.
The kit is very well made. I found no flash on the model. There are some minor seams on the nacelles but nothing some sand paper can't cure. There was a square "knob" at the end of the nacelles, this was probably a mold pour hole. When I tried to cut it off I cut a little too deep and accidentally cut a notch out of the rear of the nacelles. I'll fix that with some putty once the kit is assembled. The Navigational Deflector and Impulse engines come inside a small Ziploc baggie. Dry fitting showed that all of the parts fit well and the design of the kit keeps seams down to a minimum.
As with the Alliance Enterprise-E kit, the Dauntless is very detailed. There are very crisp panel lines all over the kit. I think they might be to shallow, that a few coats of primer and paint will fill them in. From the available reference material the kit is very accurate. I was surprised that there is so much reference material out there on the Dauntless, since it was just a ship of the week.
Assembly & Finish
The kit will be very easy to assemble. The Nacelles will be glued onto the "Saucer" the Navigational deflector and impulse engines will be glued onto the "Saucer" and the ship is assembled. Once the few seams that are on this kit have been filled and sanded the model is ready to be primed and painted.