After this, I washed the model with Testors Model Master (TMM) Flat Black thinned in mineral spirits. After removing some of this wash, retouched some areas with an additional wash. Moderate drybrushing with lightened RLM 74 accentuated some details and edges, while drybrushing some leading edges and corners with TMM Medium Grey added depth.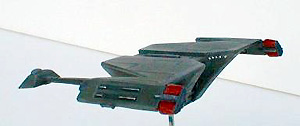 I used TA Gunship Grey for several panels on the aft section, and flat black for the hanger bay and some details. After this was finished, I drilled out the windows and filled the holes with GS Flat White. This took several applications for good filling, after each step was mostly dry I used a cotton swab moistened with rubbing alcohol to remove the excess. Unexpectedly, this wiping removed a layer of weathering, revealing the base coat. This gives a tremendous sense of depth and age Ė an effect I'll try to remember in the future.
The engines received TA gunmetal, TMM Chrome silver, and a mixture of light gray and red on the warp ends. This dull red was overcoated with Tamiya Clear Red to give a candy apple red appearance.
Conclusions
The quality of the casting alone will rate this offering one of the easiest resin ships I've done - ever. I like the subject as well, so I will give this a wholehearted recommendation. The only drawback is the lack of a base, which is standard in some other kits. But we can make our own bases, can't we? I popped together a little Klingon symbol as a base, which makes for an attractive presentation.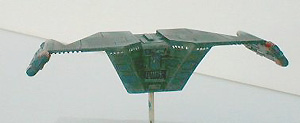 Usually I find some little thing to nit-pick. If forced, I'll say the slightly rough surface combined with the apparently freehanded scribing and window drilling make this look a bit less than professional. There are ways to do both of those cleanly and accurately, particularly when making a master with so many other good qualities. Those details just should have been covered, no excuses.
Overall, an enthusiastic thumbs-up. If you're a fan of the old FASA minis, like I am, or if you just want an unusual Klingon ship, this is for you. Buy one, you won't regret doing so.