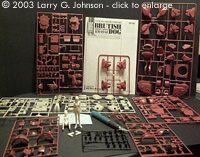 ^ What you get

Image: Sprue A

Image: Sprue B

Image: Sprue C & D

Image: Sprue E

Image: Brutishdog-specific parts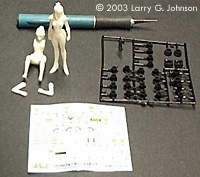 ^ Two pilot figures, one standing and the other driving the mech, are provided
All of that was found online. I know nothing of the anime series. I only know I like giant robot tanks and am not partial to Valkyries or Gundam (Destroids, Glaugs and Zaku are kool though). The Votom models really appealed to me as a believable fighting suit. So when Hobby Link Japan was dumping the Brutishdog cheap I snagged one. I know itís the pink girly one but hey, it was on sale.
What You Get
Nine trees make up the parts for this beautifully molded kit. I could find only one small piece of flash on mine and no sink holes or ejector pin marks on the outside. I deduct one point for having prominent ejector pin marks on the inside of the parts where they will need to be filled or interfere with the detailed cockpit. The detail is very crisp with a combination of raised details and engraved panel lines.
Trees F, I, J and K make up replacement parts for parts already on the other trees. I assume the main trees form the bulk of all Votoms and these four trees replace the parts specific to differences in the Brutishdog model. The parts include a new helmet (including mask, collar, antennae and interior detail), new ankles and alternate hands which are interesting. The kit comes with three hands to start with Ė two fists left and right, and an oddly positioned open left hand (see Tree B). These hands are almost cartoonish in appearance. The alternate trees provide left and right multi-part fists to replace the main fists. These are much better detailed, not simply being a hunk of shaped plastic but composed of detailed fingers broken down into two parts and separate palms and thumbs. An alternate open left hand is provided in more realistic multi-part detail and an alternate right hand is provided with separate index finger. This hand seems to be provided for holding a weapon and posing the index finger around the trigger.