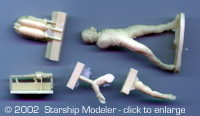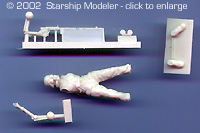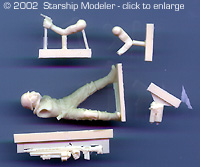 ^ The three troopers

Image: More catalog than assembly guide, but it does show how the figures should look built up

Image: Generic instructions for modifying 1/35 scale figures
What You Get
This set is comprised of three figures representing German Army "Sturmgeher" from an alternate 1944. The figures are very similar to other Sharkit releases, including pilots for their Jet Bike set. Each comes with weapons and what appears to be fuel tanks.
The resin is hard, smooth and easy to work with. Casting in my sample was first-rate, with no pits, bubbles, visible mold seams or other flaws; there is some flash surrounding some parts, but it's easily dealt with. Detail is decent for the scale - not up to the standards of Ultracast (the gold standard for resin figures, IMO), perhaps, but quite good nonetheless. One of the three appears to be wearing some sort of form-fitting bodysuit, with a distinct chevron-like pattern of ridges; the others are more conventionally dressed in fatigues. The weapons provided appear to be modifications of late-war German firearms.
Instructions of a sort come on two pages of letter-size paper. One sheet has drawings and some text in French & English intended to provide guidance on modifying figures. The other is more catalog than assembly or paint guide, though it does provide views of the completed figures. It's just as well that parts positioning is self-explanatory, becuase the instructions would be no help if you couldn't figure out what arm goes on which side just by looking.
Assembly and Finish
Dry-fitting parts reveals no surprises. The parts just need to be removed from their pour stubs and quickly cleaned up with sandpaper before gluing (though I'd recomment leaving the blocks attached to the figures' feet until you're done painting -- they'll make it a lot easier to handle the figures while you work on them). CA (superglue) should be all that's necessary for assembly, though if you use 5 minute epoxy you'll have more time to fiddle with the pose of the arms and heads.