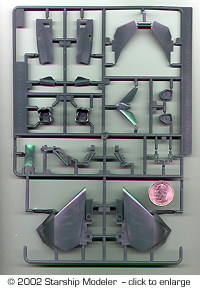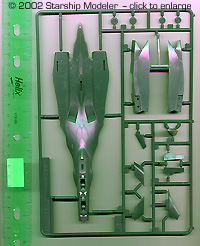 ^ Two of the three main sprues

Image: Third grey sprue

Image: Two identical white sprues hold detail parts

Image: Instructions include a paint/decal guide - it's all in Japanese though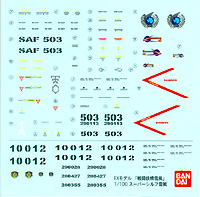 ^ Decals
Set in the near future, Sentou Yousei Yukikaze (loosely translates as "Fighting Fairy Blizzard") chronicles humanity's fight against an invading force known as JAM. Humanity's weapons of choice are highly advanced fighter jets with, of course, a twist: the aircraft use sophisticated computer AI which eventually causes one of the machines to start thinking on its own. That machine, of course, is the title character of the series, codenamed Yukikaze ("Blizzard").

What You Get

The kit is comprised of 53 parts on six plastic sprues, decals and instructions. Molding quality is pretty near prefect and detail is crisp, whether engraved or raised, as you'd expect from BanDai. The kit appears well-engineered, with major assemblies going together on natural panel lines. You have the choice of building the aircraft in flight - two pilots are provided but not a stand - or on the ground. The landing gear legs are a bit thick (they look more like tree trunks on wheels) but that's in keeping with the anime-look of the plane. Two sets of under-wing missiles (four weapons on two pylons) are also provided.

Instructions are the typical sequence of exploded diagrams. If you've built amodel before, you should be able to puzzle them out despite the text being all Japanese. A painting & marking guide shows where the decals go and what colors to use. Those of us who don't read japanese can refer to the box art for painting (assuming you want topaint this the way it's "supposed" to be!). Decals are prefectly registeredand should present no problems.

Assembly & Finish

Dry-fitting the major components shows no surprises - everything should go together smoothly. I'll build it as sub-assemblies (main airframe, ventral "tail pod" and missiles), paint, then assemble the remaining bits. That should make it easier to mask and paint everything.

Conclusions

This is a nice kit of an interesting-looking subject. My only reservation is the price - comparable aircraft kits from Japan are usually half the ¥2800 JPY. If the subject interests you, and you have the coin, I'd say you can't go far wrong picking it up -- this kit should be as close to a "shake-the-box-and-out-pops-a-model" project as you're likely to get.

The perfect antidote, in other words, to an ERTL Enterprise-A....


Many thanks to my wallet for providing the review sample. Manufacturers and retailers, interested in getting your wares reviewed and publicized on a site averaging 3000+ readers a day? Contact us!