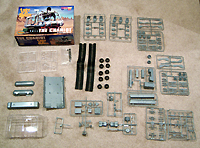 ^ What you get (is lots of parts)



Image: Clear parts are very clear ...

Image: ... and distortion-free

Image: Robot and luggage parts are in one bag

Image: Wheel hubs, interior and exterior details ....

Image: ... are in another.

Image: The cabin floor, chassis, tracks and tires are in a third

Image: Detail, as on the laser rifle, is a bit soft

Image: Curtains are certainly useable but I think I'll use mylar foil instead.

Image: Minor damage from the vinyl parts to my cabin floor piece

Image: These track marks will be easily fixed ...

Image: ... as will these

Image: Instructions

Image: Errata sheet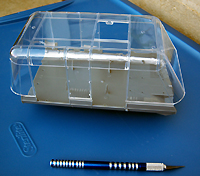 ^ This will be a big model


It made its first appearance with the pilot episode and was seen throughout the run of the show. The full-sized Chariot was fully functional, based on the chassis of a Thiokol Spryte 'snow cat' with a new metal and plexiglass cabin. Three models were also built in smaller scales for special effects sequences. After the series was cancelled, the full-sized machine was apparently sold back to the ski lodge from which it had been bought, where it soldiered on for years hauling logs.
The Chariot has been available in various kit forms for years, most notably in the Aurora and Polar Lights "Cyclops" plastic diorama kits (though there have been other resin and die cast versions in various scales as well). Moebius' new model is the largest plastic kit of this subject of which I am aware.
What You Get
Inside the box are over 175 plastic, vinyl and metal parts - all bagged to cut town on scratches and breakage -- plus a full-color instruction pamphlet and an errata sheet. There are ten sprues of silvery-grey plastic parts in 2 bags, plus another bag containing the body, chassis and end caps. Clear parts include one sprue of lights, windows and robot detail parts, plus the complete upper cabin in its own bag. Black vinyl parts, for the tracks and wheels, are included with the chassis. A small bag of metal axels and screws for the chassis rounds out the parts. There are no decals.
The kit provides a full interior and a separate, 1/24 B-9 Robot. Also included are some items of personal gear, most notably a couple laser rifles. Clear parts are used for the doors, cabin roof, dome, the Robot's bubble and neck ring and the large headlight covers. Smaller lamps are solid grey plastic. he running gear is provided as styrene hubs with vinyl tires, all of which are surrounded by one-piece vinyl tracks.
A note about these: I noticed that the vinyl parts had appeared to 'eat' into the surface of the styrene parts in the same bag when I first inspected them. The marks are mostly faint, except on the center of the cabin floor where a tire left a sizeable welt. This is not at all uncommon; anyone who built the old AMT F7F Tigercat model probably saw the plastic landing gear hubs dissolve after contact with those vinyl tires. I understand that Moebius is aware of the problem and replacement parts will be available to customers with kits that are damaged by the vinyl tires and tracks; just contact their customer service folks at customerservice AT moebiusmodels.com.
The damage in my case is really minimal, and can be sanded away easily. I would suggest that if you take the vinyl parts out of the original packaging and store in a separate bag you can avoid any serious damage to your plastic parts before building.