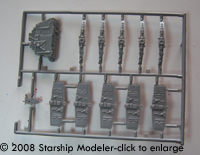 ^ New parts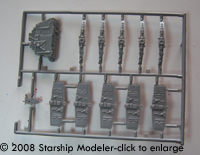 ^ More new parts

Image: Outer hull

Image: Inner hull

Image: Original detail parts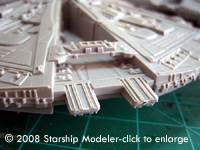 ^ Fit is OK



Image: New pulsar cannon has gaps

Image: New parts fill gaping holes in the old kit

Image: Detail parts

Image: Fit is acceptable


It was reissued once, in 1998, and is now back again for the 30th anniversary of the show - with new parts.
What You Get
I should start this with a confession: I have never built this model before. Or bought it. I had a squadron of Vipers as a kid, each with the rubber band-powered missiles, and I don't know how many Raiders fell prey to firecrackers or BB guns. This ship never did anything for me, however. It's too obviously a Star Wars wannabe, without being Star Wars.
Fast forward 30 years and I have one to review. Opening the box I see two baggies of parts, plus one with the new base - six sprues in total, plus the 4 circular hull halves. One decal and an instruction booklet round out the package. A quick scan of a previous issue's instructions reveals that parts 13-17 are new. These comprise details around the center of the ship, shrouds on the top of the upper hull, and one mega-pulsar unit (2 parts called 'pulsar unit' in the instructions).
Thirty years have been kinder to these molds than they have been to me (but then these molds haven't been to Mogadishu either). My kit had no flash and very little in the way of mold seams. Detail is what you would expect from late-70's Monogram (the company's heyday, when they were doing their best work): crisply rendered. The new detail pieces do not look out of place, having the same level of detail.
Instructions are typical Revell (Monogram): adequate for the job. Exploded diagrams walk you through 7 assembly steps to complete this thing. The paint guide is less helpful. The boxart shows some medium blue accent painting, but aside from a mention of 'Flat Light Blue' in the instructions, there's no mention of markings. The only decal is a nameplate for the (new) stand.
Assembly and Finish
With only 17 numbered parts, how hard can this model be? Answer: not hard. In fact, it's pretty near a slammer. Fit is really pretty good, considering the age of the kit. I used Testors' Model Master liquid cement to glue the dinner plates …. er, I mean 'hull halves' …. together. It gives you more time to spread glue around the diameter of the parts without it setting up on you before you can press the parts together. I came back later with my capillary applicator and Tenax to weld shut any gaps. Tenax also joined the rest of the detail parts to the hull. Fit was … was good as the Monogram B-17, TBD or B-25 from the same era: ie, good enough. I still need to go back and sand down the edges of each saucer, but that's more tedious than it is difficult.