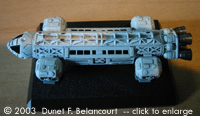 ^ Eagle Transportrer with passenger pod

Image: Underneath

Image: Pod removed

Image: Rear of command cockpit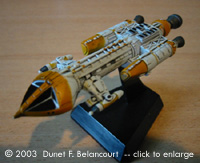 Image: Top/rear view
Image: Underneath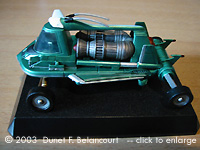 ^Mac's jet car from Joe 90

Image: Rear view

Image: Explosives truck, front

Image: Explosives truck, rear

Image: Stingray, top/front

Image: Stingray, top/rear

Image: Terrorfish
They have previously released trading kits (like trading cards except in three dimensional form with some examples being rarer than others) depicting vehicles from Gerry Anderson's Thunderbirds, Captain Scarlet and the Mysterons, and UFO.
The latest offering are the Eagle Transporter and Mark IX Hawk from Space: 1999; the Terror Fish and Stingray Submarine from Stingray; and finally Mac's Jet Car and the U59 Explosives Truck from Joe 90, as well as the super rare Supercar. There is a Rescue Eagle version but mine hasn't arrived yet.Each of the models is roughly 3" to 4½" in length and for their size, very well detailed. The painting and markings were very well done, from the pin-striping on the Stingray Submarine to the weathering and tube markings on the Eagle.
These models are, for the most part, display pieces and have no moving parts with the exception of the Eagle, which has a removable passenger module, and on Stingray where the Eddy Damper (I have also seen it called a "ratemaster") rotates. They are molded from a hard vinyl with almost styrene-like qualities. The details are very sharp, especially on the Eagle and Hawk. They were beyond easy to assemble as they were snap-together.
Scales vary. Using the scale calculator I downloaded from this wonderful site and measuring my 1/72 Eagle and Hawk, I came up with between 1/192 and 1/175.
Prices range from $3 (USD) up to $30 (USD) or more per model depending on rarity/popularity. You can still get them on eBay or you can order from HobbyLink Japan. Be advised that you don't get a choice about which model you get as they are trading kits and part of the fun is the surprise/disappointment you feel when you find out what you got.
Conclusions
All in all, these are very very nice models to put together and display. While they are not very challenging, they filled a need near and dear to our hearts by providing something tangible from some of our favorite childhood shows.
Many thanks to Dunet's wallet for providing the review sample. Manufacturers and retailers, interested in getting your wares reviewed and publicized on a site averaging 3500+ readers a day? Contact us!