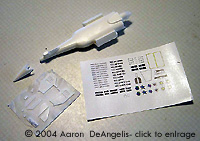 ^ What you get Image: Parts, cleaned up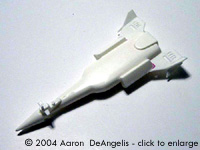 Image: Primed

Image: Ready for decals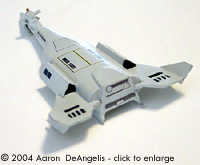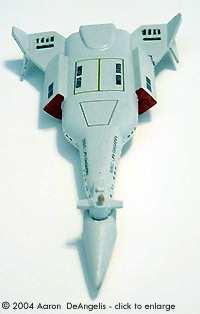 Image: Underneath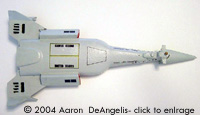 Instructions

The instructions included are just a schematic of the finished model. Smaller details, like the hatch and radome's location, are pointed out to you. Decal positions are not shown, which was a little annoying when applying them.

Clean up

On the hull piece the mold was slightly misaligned, making a half-millimeter break along the hull. The misaligned area is small, and can be quickly sanded down (or puttied up, I suppose.) There is a pour stub on the back that can be easily removed with a hand saw. The resin is nice and soft, so the saw had no trouble cutting it down. As I am building the "Mark I" version of this model, I removed the sail on the aft of the conning tower.

The wing segments and detail parts are all on one "sprue." They need to be cut off and have the flash removed before being glued to the hull, or used as patterns for cutting styrene replacement wings. In my sample, the bubbling on the bottom of the cast wasn't too bad, and could easily be hidden with a bit of primer, so I decided to use them.

Assembly

The wings need a little trimming to fit onto the model. A few millimeters removed from the front of each main wing allows them to fit snugly to the hull. The "dive planes," radome and hatch are tiny little bits that you need to be extra careful with when placing in the hull.

Paint

I painted the model in Model Master light gray, with engine exhaust and intakes in black and insignia red respectivly. I painted the sensor radome copper. Yep, that's about it.

Decals

The decals were my favorite part of the model. They are very well done, and come off the sheet like opposed magnets. Names included are Alan Shepard, Sam Houston, Leif Ericson, Star Chaser, Sally Ride and (in '60's bubble letters) Leif Ericson, Columbus, Marco Polo, Darwin and Lewis & Clark. As the instructions were lacking, I took some creative liberties when applying them. The windows location I wasn't sure of, and I couldn't find references anywhere on the net. I did a little guess work looking at other peoples Leif's, and I think it came out about right. I named my vessel the SSC Uri Gagarin, after the first man in space.

Last Word

This model was completed in a weeks' time, and I must say that it was loads of fun to put together. Someone new to resin modeling might be frustrated with the kit, with the extra work involved, but I loved it. I recommend this kit to anyone looking for a weekend project, or anyone who can't afford the original kit on eBay (Ha!)

Many thanks to Jay Curtiss for the review sample.