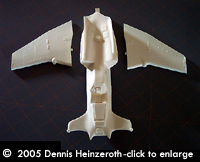 ^ Wings and fuselage, top view

Image: Engines and intakes

Image: Fuselage, head on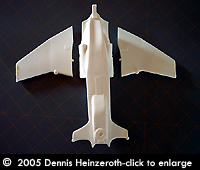 ^ Bottom view

Image: Mold seam on the fuselage

Image: Vacuformed canopy, front

Image: ... and rear

Image: Missiles

Image: Pilot and instrument panel

Image: Wings, top side

Image: Wings, underneath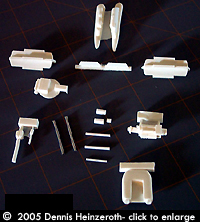 ^ Other bits

Image: Decals

Image: General assembly tips and paint guide

Image: Step by step assembly guide


As a longtime resident on my scratchbuild to-do list, the SA-43 Endo/Exo Atmospheric Attack Jet (from the FOX television series Space: Above and Beyond) has slipped off the radar screen with this model kit thanks to pattern maker Alfred Wong and SMT.
What You Get
Inside the box you'll find 30 resin pieces, 3 pieces of styrene rod, 3 pieces of styrene tubing, 2 lengths of aluminum tubing, 1 vac-formed canopy, a decal sheet and a set of instructions/paint guide securely packed in foam peanuts.
Parts
The resin parts are very well cast. I only found one air bubble on a small, thin piece and it will require about zero effort to fix with a little filler. The main fuselage and wings have slight mold alignment seams and a little sanding and putty will make short work of them as they are very minor. Any flash on the parts is easily removed. There isn't much there to begin with and what is there is so thin that I could actually read the newspaper though it.
Overall detail is very good, but a few nit-picks I noticed are:
The wings attach to the fuselage guided by a locating pin for alignment. The detail on them is very well done. All of the smaller parts are crisp and the missiles are straight as an arrow. The smaller cast parts come in a zip-lock bag as do the short lengths of tube and rod. The canopy comes in its own bag and is a work of vac-forming art. Some fancy work went into the making of this piece. Raised and recessed detail all in one vac-formed sheet of clear plastic.
Decals
The decals by JBOT are fantastic. You get two sets of identical markings with solid colors and perfect registration. I had to get out the magnifying glass to read the smallest print and it is readable! The markings are for Maj. C.C. McQueen's SA-43 from his 127th squadron (the Angry Angels). I think that is a typo as his name is T.C. McQueen (Tyrus Cassius) and his rank was called out on the show as either Lt. Col. or Col., but it appears as though his Hammerhead reads as Maj. T.C. McQueen in an early episode. I was hoping for artwork of some of the other pilot's Hammerheads, especially Cooper's "Pag's Payback" with the red hand print, but these decals are top-notch.
Instructions
The instructions on the other hand are the weakest point of the entire kit. Basic cleanup and assembly instructions make up the first page. The assembly guide just points out where parts go, not how they get fitted or trimmed from the runners. The photos are B&W and grainy, but some effort was made to highlight some unclear areas. The paint guide calls for pale and dark grey paint and decal placement is not clearly called out for some markings. While not a difficult kit to figure out, a first time resin kitbuilder may find it confusing.