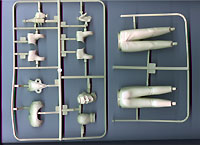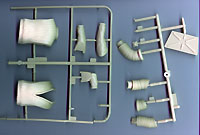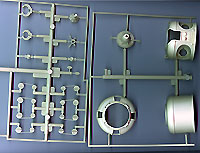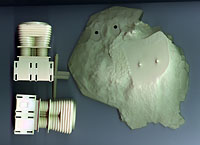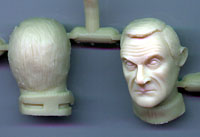 Polar Lights' original release of the Lost in Space (TV) Robot was gladly received by the sci-fi community two years ago. That kit was a faithful reproduction of the old Aurora kit (though made from new molds). Not content to rest on their laurels, Polar recently issued a new kit of the Robot, now accompanied by the nefarious Dr. Zachary Smith.

What You Get

Like all Polar kits, this one comes in a sturdy box tough enough to withstand even airline baggage handlers (don't ask how I know that). Once you free the box from the extra-thick cellophane, you'll find over fifty parts inside. Unlike the original Robot release, which was molded in an ABS plastic, this kit is molded in a normal styrene - albiet a pretty hard one. This is good news, in that regular model glues will actually keep the parts together (see my review of the old Robot for what it took to be assembled). The clear parts are admirably clear, though a little bit scuffed in this particular kit. Nothing a little polishing couldn't fix though.

What's new is the Dr. Smith figure and the base. The Doc is broke down into ten or so pieces, which includes a nice looking laser pistol. The base is the same base as the previous kit, though with a new section grafted on to accomodate the new figure.

Assembly & Finish

Detail pon this kit is, for the most part, the same as on the previous Robot. It appears that Polar has cleaned up the molds a bit - the Robot's treads do not exhibit the ugly mold seams the first issue did, for instance. It does appear, however, that previous inaccuracies are still present (see that other review for details).

Dr Smith, however, is nicely done. Overall, he's well detailed and correctly proportioned. I particularly like the way they've captured Smith's typically sour expression. A quick dry fit of the parts didn't show any surprises, though I'm sure the seams will need as much work as any other Polar kit (in other words, fit isn't horrible, but don't throw away the putty!).

Conclusions

I've seen this kit built up into a prize winner - and it doesn't look like that's beyond the ability of most modelers. With a bit of patience and careful painting, this can be a welcome addition to any Lost in Space fan's collection.


Many thanks to Polar Lights for providing the review sample. Look for a build-up review in the near future. Manufacturers and retailers, interested in getting your wares reviewed and publicized? Contact us!