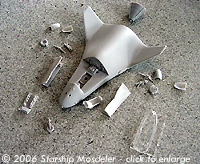 ^ Parts



Image: Instructions

Image: Decals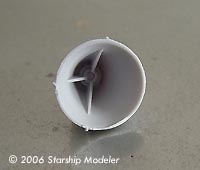 Engine bell detail
At long last, Sci-Fi Models has come to my rescue with a 1/72 resin kit of John Crichton's module.
What You Get
The kit is comprised of 17 resin parts, one clear vacuformed piece of styrene, decals and instructions. Deployed landing gear are provided, as are optional parts for the drive mods done after Chricton was aboard Moya for some time. Casting is very clean; there were no pinholes, bubbles or other flaws on my kit, and only minimal flash and pour stubs to clean up. A fully detailed cockpit is provided with separate seat and side consoles. It looks properly busy for the scale and should paint up convincingly. No pilot figure is provided, but those are easy to fin in this scale. One clear vacuformed piece of plastic is provided for the upper canopy glazing; decals are provided for the black-tinted side windows.
Instructions are simple and include stills from the series by way of reference for decals and painting. Decals, by JBOT, include all the markings for Chricton's module, plus what I presume is the name of the shuttle ("Collaroy") that carried the ship into space in the premiere. Handy, that.
It's a small model - necessarily so, as the 'original' was carried into orbit inside the payload bay of a Space Shuttle. At 5" long, it's comparable to a Colonial Viper in 1/72, but quite a bit wider.