My appologies for the crappy pictures - I hope to replace them soon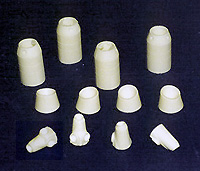 ^ Engine pieces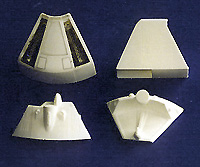 ^ The "wings" are hollow, and consist of front and back pieces

Image: Three views of the fuselage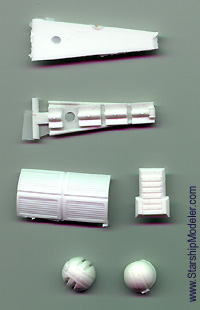 ^ An example of the casting quality, in this case the Death Blossom doors, a landing pad and two of the turrets






that they were almost ready to release a Gunstar kit, there was much rejoicing. The company, now known as TM Lindsey (to avoid confusion with StarCrafts) has enjoyed a favorable reputation for decent products and good service.

It took ten months to produce this kit, and the time invested appears well worth it.

What You Get

The kit consists of 53 resin parts, assembly/paint guide, and decals. The resin parts, which consist of the fighter and a four-part base, are very well cast in a fairly soft white resin. There was almost no flash on my sample, no pits or bubbles, and I really had to look for mold seams. In fact, I really had to look hard to find any casting flaws at all, the work is that good. There are a few spots where a panel line is interrupted by a mold seam, but in general, the production quality of the pieces is on par with what's coming out of Japan and Eastern Europe these days. You heard that right - except for the choice of resin and the subject matter, this could have been done by CMK. The parts are very well engineered as well. Test fitting of major components shows that, once a few mold seams are lightly sanded, I won't need to use much putty - if any.

The kit features four detailed "Death Blossom" bays, two for each wing, making it the only Gunstar kit I know of to include these. The picture at left does not do it justice - these parts are simply exquisite in the amount and quality of detail. The modelr has the option of covering them up with the bay doors ... but it would be a shame to hide what's behind there. The base is a nice touch - and includes a "hook" so you don't have to permamnently glue the model to the base (allowing one to zoom it around the room while making space-battle noises, not that any of us would do THAT). One possible drawback is the lack of an interior. I don't miss it - few aircraft kits I build smaller than 1/72 scale have much in the way interiors either, and heaven knows I wouldn't be able to paint anything that small anyway.

Instructions consist of four photocopied pages. The first is a complete listing of parts. The next three are detailed assembly steps with paint call outs. A marking guide is provided as well, to assist in placement of decals. Waterslide decals for the one fighter seen in the movie are given. Because these were printed on a laser printer, they are very thin and may well be very fragile. I would recommend overcoating the sheet with something like MicroScale's Liquid Decal Film to strengthen them.

Sure It's Pretty, But Is It Accurate?

As far as I can tell, yes. I've compared the parts and the decals to what I can find on-line, and by freeze-framing the movie, and I'm satisfied it's as close to being the "real" ship's doppelganger as is possible at this scale. I'm not 100% positive about the interior of the Death Blossom apparatus bays, but the detail looks so good I wouldn't mind if it was off a bit.
Conclusions
I know it sounds like I'm gushing, but this really is a sweet kit. The quality is easily the equal of the best resin available in the sci-fi modeling genere, and quite a bit better than most of it. It's half the size of the Monster's in Motion kit - and half the price too, with (from what I've seen) much better quality. I'm eager to get this model built, and I don't forsee any real difficulty in doing so. It looks simple enough, and the parts appear to fit well enough, that even a first-time resin builder shouldn't have too many problems making a great model from this kit. Highly recommended!
Many thanks to TM Lindsey for providing the review sample. Manufacturers and retailers, interested in getting your wares reviewed and publicized on a site averaging 2000+ readers a day? Contact us!