These photos appear in chronological order as these programs were produced. Click on each thumbnail to see the larger picture.
SUPERCAR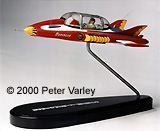 This Reshape resin and white metal kit required relatively little scratch-building. The most notable exception was the instrument panel and certain interior details, which were reproduced precisely thanks to computer-generated images available on the Supercar Home Page. As well, Mike Mercury is a heavily modified 1/32nd scale military figure. Positioning each of those fiddly side "gills" was the only real struggle with this kit. In a departure from my usual method, Supercar was hand-painted using Polly S water-based paints and finished in semi-gloss clearcoat, as the masking required for its complex paint scheme would have been a nightmare. Base is from an aircraft manufacturer's promotional model.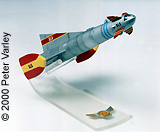 FIREBALL XL-5
While lovely looking on completion, this Comet Miniatures kit is an unwieldy mass of paper-thin resin and hefty white metal. Kids, don't try this one at home. The Lucite base is from an old aircraft manufacturer's promotional model and nicely adapted itself to this use.
STINGRAY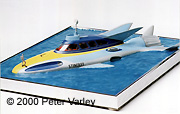 A Doyusha kit with some tolerable contour inaccuracies. The total absence of interior detail led me to an obsessive scratch-building exercise, right down to the console equipment, rear sofas, bookshelf and "coffee table," lower deck, railings and on and on. Marina is lounging aft and Phones is in his customary spot, as Troy trudges up the forward deck and into the waiting hatch after a dip. Happily, the slightly outsized windows (which required canting forward all around) afford at least a peek at all this ludicrous detail. Base is a brushed steel picture frame laminated in white glue, tinted various shades of blue.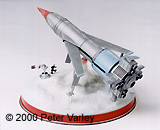 THUNDERBIRD 1
Bandai, straight-from-the-box, with the exception of landing gear fashioned from sprue and a properly-contoured nose cone. TB-1 is mounted on a wire strut embedded in the plaster used for the "mountaintop" base, which in turn was layered over a cookie tin lid. The strut was then concealed in the landing rocket exhaust. Small figure has apparently been foiled trying to fire a laser cannon at an installation below.
THUNDERBIRD 2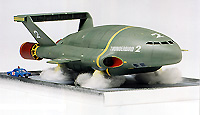 Imai's truly "accurate profile" version, mounted on a picture frame base depicting an airport tarmac surface and -- typical for these scenes -- a police vehicle of incongruous sixties vintage. TB-2 is perched on shortened landing gear struts concealed by landing rocket exhaust. Although nearly invisible here, many hours were spent achieving the correct panel colour variations using pastels.
THUNDERBIRD 4



Bandai, featuring a scratch-built interior (which, of course, largely disappears beneath the tinted cockpit window). Mounted on a small Tupperware lid, which has been built up with plaster and sea sponge fragments to depict the ocean floor.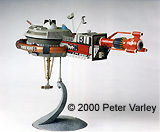 THUNDERBIRDS 3 & 5
Imai again, virtually straight-from-the-box, with some minor surgery around TB-3's engine area. One of these days I've got to find a stand-alone Thunderbird 3 in a larger scale.
LADY PENELOPE'S FAB 1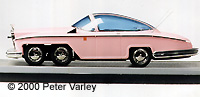 Only exterior refinements carried out were to the headlight and wheel well areas of this Imai offering. The complete absence of interior detail prompted a total scratch-build -- right down to the walnut door paneling, driver's seat microphone and dashboard detail. Once again, this labour of love is obscured beneath the tinted canopy. Base is a Lindbergh model car case platform with cobblestone surface.
SPECTRUM PATROL CAR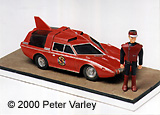 A surprisingly accurate Imai kit, given its spring-loaded doo-dads -- but also with no interior, requiring that one be kit-bashed from scrap auto model parts. Again, the tinted windows leave these and other details, including a rear-mounted engine borrowed from a 1/24th scale Porsche 928, largely invisible. (I really have to start making my own windows and canopies.) Base is a Lindbergh display case bottom. Imai Captain Scarlet figure is a touch out of scale, but I can live with it.
SPECTRUM PURSUIT VEHICLE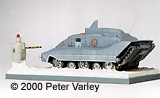 Less accurate than the Patrol Car, but an acceptable Imai rendition all the same, with the exception of the original rear trends which were dreadful and are scratch-built. Here the SPV is idling at an automated checkpoint kit-bashed from scrap Japanese robot parts. (Doubtless some secret military installation in the high Arctic…) Base is painted plaster on a Lindbergh car base.
CLOUDBASE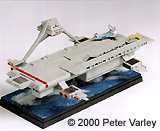 Another of those unfortunate spring-loaded, gadget-laden Imai models, but the only one of this strange machine available. Most of these gee-gaws have been successfully concealed on this rendition, except for the crude toy airplane launch ramp smack in the middle of the runway. This has been disguised as repair work in progress (note the crane lifting adjacent runway panels, revealing the structural frameworks underneath). Base is a Lindbergh display case bottom, laminated with a magazine photo of Earth from high altitude, augmented with cotton-batting clouds.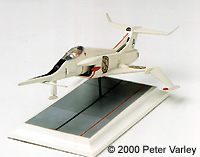 ANGEL INTERCEPTOR
The oldest model I own. An Airfix kit (and much superior to the Imai version), bought and hastily assembled as a teenager, which I disassembled and properly refinished about 12 years ago. Panel lines, as with most of my models, are applied by mechanical pencil. Base sports a section of Cloudbase runway.
UFO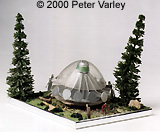 This menacing vac-formed and white metal vehicle, courtesy S.H.E.D. Models, has crash-landed in the usual fashion, after tearing up the forest floor and foliage and coming to rest on a tilt. Chrome finish with a fine mist of dust on its dome to represent the debris tossed up on impact. An appropriately attired alien can be seen staggering from the scene. Base is a picture frame layered in plaster and detailed with twigs, stones and model railroad trees and lichen.
SHADO MOBILE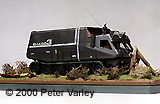 Remarkably accurate, by Imai's standards, requiring little modification. Interior is scratch-built and sports two properly uniformed SHADO operatives. Base is a Lindbergh car case platform layered in plaster and finished with twigs and model railroad landscaping materials to resemble the forest floor.
SKY 1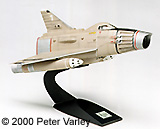 I began by trying to alter the nose profile of this terrible Imai kit. The tail had to be moved well back, the rear docking area required more detail and all surfaces needed panel lines inscribed. (At least the kit-bashed pilot figure is right.) It's also hard from photos to determine the proper paint colour for this aircraft. I settled on a kind of metallic sand finish, which turned out to be too light. Subsequent research points to a kind of greyish copper. Altogether, this one just doesn't make the grade. I'll eventually replace it with a more respectable Reshape resin kit of the full Skydiver (which in fact has just arrived courtesy Monsters in Motion).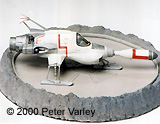 MOONBASE INTERCEPTOR
This spindly resin and white metal Comet Miniatures rendition is a delight to look at but was murder to build and finish. Mounted on an inverted pie shell form, which was layered in plaster and sculpted into a lovely lunar crater. Modest additional cockpit detailing, mostly in the form of instrument decals. Ring around the launch platform is a length of telephone cord.
EAGLE 1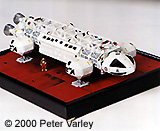 Just in time for 1999, AMT/ERTL reissued their Eagle Transporter, which enthusiasts will recall is an awful piece of work. Happily, master modeler E. James Small (Small Art Works) offers an excellent illustrated guide to salvaging this kit, which is posted on the Space: 1999 Cybrary and elsewhere. Many of Jim's ideas were applied here. I resisted the temptation to weather this vehicle too heavily, as studio model shots show reasonably clean surfaces but with a fair bit of panel variation. This was achieved with mechanical pencil and the application of self-adhesive label shapes in a slightly lighter white than the base finish. The results are barely visible here, but much more effective for display. Small "greeblies" from the spares box were added to the tops of each cage section, the engine plumbing and braces were entirely worked over, the landing gear support structures were properly scratch-built and a kit-bashed Alpha astronaut was placed nearby to establish scale. Eagle 1 is mounted on a section of launch pad applied to a black steel picture frame.
On now to the next kit in my cupboard -- and my first project for a genuine "Century 21" -- a Comet Miniatures UFO Space Intruder Detector!