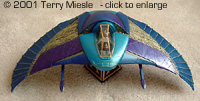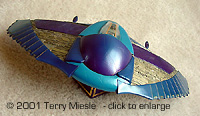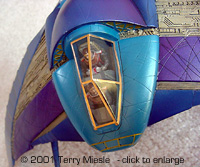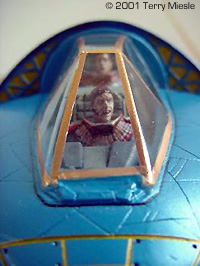 Image: Side view of the rebuilt canopy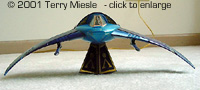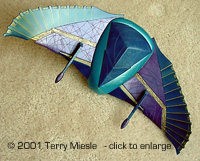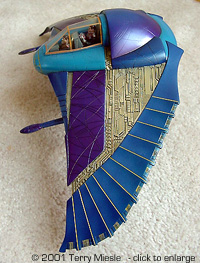 Image: Completed base ("plinth", for our UK readers).
It is a show which "gets it right." It uses many of the same stories familiar to SF and drama series, but does them better than most other shows. I recommend you watch it when you get the chance.
The premise of the movie and series was simple. All those gods we believed in were actually living entities, but they're not gods, just very powerful aliens. Most are still alive. The Goa'uld and Tokra are symbiotic life forms, similar to the Trills in Star Trek, but with an attitude. The Goa'uld are universally evil, taking the form of gods using technology to dazzle and enslave less advanced civilizations. They dominate their subjects and use them for nefarious purposes. The Tokra are also symbiotes, but are at war with the Goa'uld, and are fairly obnoxious in their own right. The Asgard are another ancient race, typical grey aliens, and are also at war with the Goa'uld , though these guys are more benevolent. The Goa'uld are at war with one another too, as though they didn't have enough trouble already.
Ship design does not play a primary role in Stargate. The capital ships of the Goa'uld are generally Egyptian looking, featuring pyramids as a basic shape. The Goa'uld employ a number smaller craft, including this Death Glider. It is armed with a pair of main guns which are larger versions of the hand-held staff weapons used by the Jaffa. These fighters are capable of operating in atmosphere or vacuum, and are highly maneuverable. They apparently use the same gravity drive as the other ships in the series.
The Model
Warp has a winner here. The casting is crisp and details are very good. There were few pinholes, and a minimum of flash or mold lines. The fuselage is cast as one hollow piece. The half-figures are nicely sculpted and well cast in soft white metal. You'll have to decide for yourself whether you want to build them into full figures and scratchbuild a full cockpit or just paint the floor black and ignore it.
The bad part about all of that is the resin WARP uses. The mold release was very strange stuff, it seemed like petroleum jelly and smelled of honey. This required dish soap and a toothbrush to remove, which did grind into the surface a little. It is GRP resin, a polyester, with microbubbles included to extend it. This meant that when I sanded any area, including removing mold lines, hundreds of tiny bubbles were exposed, which had to be filled as well. Exasperating. I had to do a lot of filling with Gunze Mr. Surfacer 500 and 1000 (fill-n-sand) and I used a sandable primer from Krylon. This let me fill the areas, sand, fill, sand and even sand the entire model to a good surface. To say the least, that part of the building was very frustrating.
The cockpit tub and the guns were cast in good resin, light tan polyurethane. These were very nicely done. The canopy was cast in tinted translucent resin. One copy I saw was a pretty cool light purple, the other a dark blue. Both canopies I saw had major problems due to the mold release - it actually left indentations in the surface! Additionally, there were pits and bubbles in the clear resin, not good. I polished the blue canopy until it was relatively clear. Then, while cutting off the excess resin, I broke it. After considering scratchbuilding a canopy framework I decided to heat smash a new canopy over the remaining one. I slathered the intact purple canopy with Mr. Surfacer 500, sanded and polished it smooth. Using that as a positive master, I heat smashed a new, clear canopy. This was polished and coated in Future. More work than I wanted, but the clear canopy is better. The glass in the series does have a tint, but I think it's more like a Chevy Lumina minivan's glass - metalized or polarized. Strips of Bare Metal gold foil is the framework color.
I primed the model with sandable primer as I said earlier. This was wet-sanded smooth and primed with white paint. After priming, the painting of this kit is an exercise in pearlescent paints. I used Testor's Acryl Pearlescents: True Blue, Deep Pearlescent Purple and Grape Pearl, and mixes thereof. Additionally, for the "feathering" effects I darkened the base color with Tamiya smoke and for the pretty light blue, I added silver and white paint, making it slightly more opaque as well. Most entertaining, even with all the masking. The gold areas are Testors Acryl Brass. This color matches the gold parts of Goa'uld ships almost perfectly, and using two coats covers even darker backgrounds very well, I was pleasantly surprised.
The fine gold lines you see were applied using a cheap gold ball point gel pen obtained at Michael's Craft store. It can be wiped away with a moistened finger and completely removed with an alcohol swab. Do this over a protected surface; I had about 3 coats of Future over the entire model when I did this. The large gold detail areas were washed with black oil paint to bring out highlights and increase contrast.
The figures were painted using whatever paints seemed useful. They're superglued in place. Bare Metal gold foil was used to frame the canopy. Dip this in Future to permanently affix the foil. The canopy was attached with white glue.
The model also includes a small stand with the symbol for Earth in relief.
Conclusions:
When finally done, this is a large model, with a wingspan about 16 inches. It's very colorful and well-received by viewers. It's $110, which is a pretty fair price for something this size. My only real complaints are the mold release agent, that awful microbubble-filled polyester resin, and the clear resin canopy. Vacuform the canopy and get a handle on the mold release, WARP, and you'll make people much happier – they'll even put up with the GRP.
Perhaps I'll build the USAF retrofitted version next…anyone want to give me figures of Teal'c and O'Neil?
Many thanks to Federation Models for the review sample!