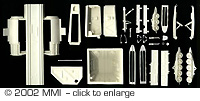 ^ What you get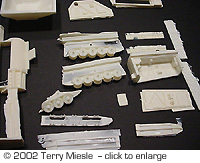 ^ Closer look at the bays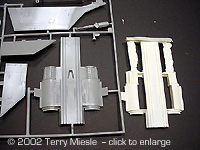 ^ The plastic underside is replaced by a resin insert with the gear wells opened
My brother, Nick, and I grew up in the 1970s. We wore short shorts with long tube socks, had long hair and listened to Ted Nugent, Judas Priest, Led Zeppelin, and Uriah Heap. We also watched far too much television: The Dukes of Hazzard, Barney Miller, Fantasy Island, The A-Team and C.H.I.Ps, but it was science fiction which really caught our imagination. We watched reruns of Twilight Zone, Outer Limits, Lost in Space and memorized episodes of Star Trek. We also watched the shows released after Star Wars, from shows we knew were awful like Buck Rogers (despite Erin Grey), to those nearly forgotten by time, like Quark and Salvage One.
Then there was Battlestar Galactica. It had characters which were a bit deeper than some other shows, from competent, capable characters who bore tremendous responsibility like Col. Tigh and Apollo, hotshots like Starbuck (who also recognized responsibility), average guys like Boomer, hot babes and comic relief. What more could boys want?
Cool spaceships and shiny metal bad guys, thatís what. Battlestar Galactica was among the most ambitious shows ever produced. A lot of money was spent on visual effects early in the series, and that footage was re-used throughout the series. Monogram released models of these ships, and we bought them. They even shot little plastic bolts with rubber bands!
The SciFi channel re-ran the entire BG series during Christmas 2000. We watched the run and re-learned something we knew as kids. The show started out well. The arc from the movie up to (but not including) the fire episode were very good, engaging TV. From there the show went downhill a bit, with derivitive episodes, but there were a few high points nonetheless.
We wonít discuss Galactica 1980.